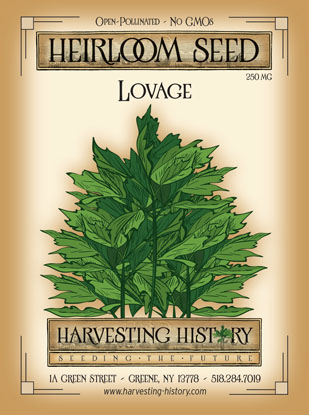 Quick Overview
HERB, Lovage –
Levisticum officinale
FULL SUN Native to southern Europe, Lovage has been cultivated for centuries. Brought to the US in the 1700s, it similarities to celery and vigorous nature made it an excellent substitute for celery. The 5 ft. plants make it a good border plant. lant in the late summer or fall. Rows should be 2 ft. apart. When seedlings are 2 in. high, thin, leaving 2 ft. between plants. Harvest throughout the season by cutting leaves off the plants, aggressively.
| | | | | |
| --- | --- | --- | --- | --- |
| Type | Spacing | Planting Depth | Days to Germination | Maturity |
| Perennial | 2 ft. | 1/2 in. | 14-21 | 90 |
Herb, Lovage
Lovage is one of the most underused and unappreciated plants in the herb or any garden. The statuesque, 5 ft., striking green plants make an effective border or artistic backdrop for the garden. The leaves, roots and stems all have the mild flavor of celery. They can be used in soups, stews, salads and as condiments.
Medicinally, lovage roots are a mild diuretic and effective against flatulence. The plant has been credited with erasing freckles, healing boils, skin and eye irritations and easing indigestion. None of these claims have ever been scientifically substantiated
Because of its celery flavor, lovage pairs well with potatoes, tomatoes, chicken, cream soups and rice. The stems can be eaten like fresh celery, cooked into casseroles and even candied.
Lovage is a great companion plant for beans. Planted as a perimeter near beans will help beans to flourish.
Recommended Companion Plants