Tools & Equipment that make gardening easier and more enjoyable for everyone
The Harvesting History Soil Scoop is an essential container gardening tool. It consists of a 5 ½ inch long, stainless steel, oval bowl which comes to a sharp point.
This kit contains a certificate for 2 Praying Mantis egg cases, detailed instructions and a net hatching cage for use indoors to observe the process of Praying Mantises hatching and eating their way out of the egg case.
The Homi is an ancient Asian tool that was believed to have originated in Korea. Its Korean name, Homi, means 'little spear'. Women, working on small family farms, carried only a homi to accomplish their day's work in the fields.
The Hori-Hori is an ancient Asian tool first used in Japan. The word,Hori, in Japanese means to dig. It is often called a Mountain Vegetable Knife because it was primarily used for digging wild vegetables that were indigenous to the mountainsides, but were not domestically cultivated.
Most of the items that we, at Harvesting History, sell have special stories, because we don't choose products unless we use the products and know the manufacturers.
Based on a centuries old design, the Harvesting History Potmakers are created by a local wood carving craftsman who makes these pot makers by turning ancient hardwood poles on his lathe. He carefully polishes each piece to remove any splinters and then lovingly oils each one.
This is the ideal tool for raking around the bases of rose bushes, border shrubs and in perennial beds without harming the plants. The long metal tines only spread to a width of 4" which allows them to access nearly every area.
These stakes are made of zinc with a label that can be permanently etched or temporarily labeled. An artist's grease pencil is included with each set of 10 markers.
Of all the insects, you could want to take up residence in your garden, by far the most fascinating is the Praying Mantis. This sublimely elegant creature with its eerie triangular face and forearms folded in prayer is a garden icon.
Gifts for Gardener's & Gardening Children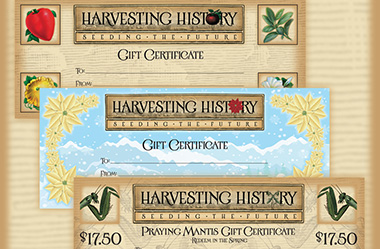 Of all the Harvesting History gift products, our gift certificates seem to produce the most universal joy. People really use these gift certificates and long after the holiday season, they are enjoying this gift.
We offer three styles of gift certificate: The Harvesting History Gift Certificate which is appropriate for any time of the year; The Harvesting History Christmas Gift Certificate which is a beautiful holiday specific certificate that can be used throughout the year and The Harvesting History Praying Mantis Gift Certificate which is only used to purchase 1 package containing 2 praying mantis egg cases. The Praying Mantis Certificate is only available in $25.00 denominations which includes shipping. Praying Mantis egg cases are shipped January-May weather permitting.
If you want us to send the certificate directly, we will write a note which you can dictate to us by phone or leave in the comments section of the online order form.
Gift certificates come in all denominations including $10.00 which is great for Secret Santa presents.