Philadelphia Flower Show 2017
America's Greatest
Horticultural Tradition:
The Philadelphia Flower Show
This week the 190th Philadelphia Flower Show is underway. If you visit, the doors of the Pennsylvania Convention Center will swing open and visitors will flood through the gates and HALT! because as they enter the main floor of the Convention Center Hall, they will be greeted with a floral fantasy creation that will be like nothing they have ever seen before. It will take their breath away. It will stun their senses. It will intrigue even the most artistic of talents.
Sometimes this entrance floral display soars 75 feet up to the rafters of the Convention Center. Sometimes it leads the mesmerized visitors across a gently arching bridge under which flows a river of 10,000 tulips. Sometimes a tunnel of exotic orchids guides the fortunate guests to a Hollywood-style venue of floral extravagance. One thing is for sure, it NEVER disappoints.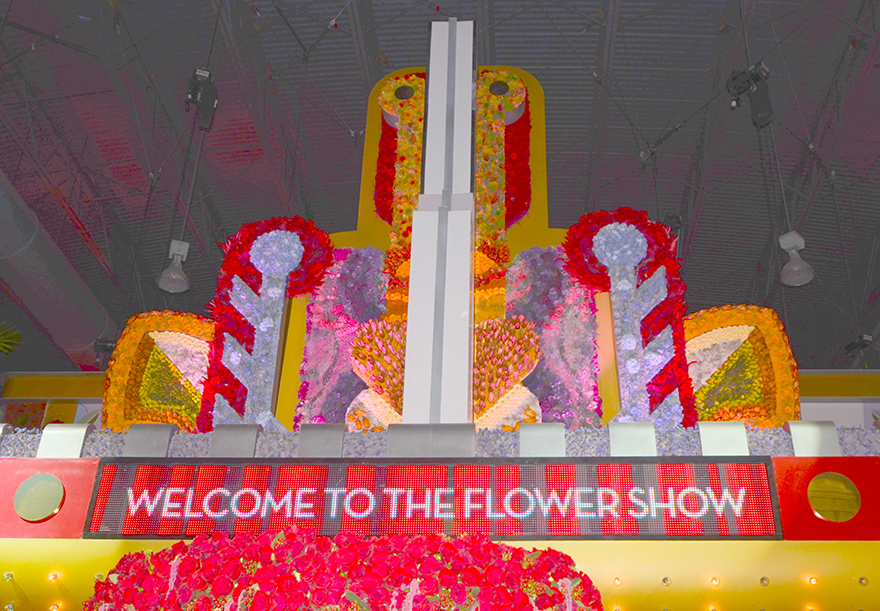 Philadelphia Flower Show 2015
As the visitors emerge from the floral fairytale that greets them, they are treated to a 'Disney-like' adventure of exquisite horticultural displays and landscape designs, strolling through forests of evergreens, Tuscan villas, Irish countrysides, and rainforest jungles, to describe just a few of the magnificent venues that have been constructed for past Philadelphia Flower Shows.
When they have concluded the exhibits, they then enter what can only be described as a garden shoppers dream marketplace where more than 140 vendors display and offer for sale the finest in gardening and garden-related products.
The principals at Harvesting History have been vendors in the Show's huge marketplace for 16 years. We are honored to be one of the longest-lasting, supporting organizations of The Philadelphia Flower Show, and we feel that on every 'Bucket List' of every American should be at least one trip to America's flower show.

Philadelphia Flower Show 1901
It all began 190 years ago when in 1829, the founders of the two-year-old, Pennsylvania Horticultural Society, decided to formalize their annual, plant-sharing, social event and open it to the public. The very first show was held in Masonic Hall, an 82 by 60 foot building then located on Chestnut Street in Central Philadelphia. Twenty five Society members attended the one-day event and exhibited their rare and exotic magnolias, an India rubber tree, exquisite peonies from China, Arabian coffee trees, some West Indian sugar cane, a curious Strelitzia-The Bird of Paradise Flower and, for the first time, an exquisite euphorbia new to American horticulture with brilliant red bracts – the poinsettia. Given the year and the difficulties that travel and transportation posed, assembling this assortment of international horticultural exotica was an incredible feat.
Poinsettia
An article in the Philadelphia National Gazette described the very first show in this way:
"The exhibition collected together…the fragrant and smiling offspring
of the earth, in their richest odours and their gaudiest hues…"
Throughout the 190 years that followed the first flower show, the event was held at several different sites and was sometimes augmented by exhibitions with sister horticultural organizations. In 1916, the Society of American Florists held its National Flower Show in conjunction with The Philadelphia Flower Show.
Each year the exhibits highlighted the emerging trends and interests of the leading American and eventually international horticultural scholars. In the mid-1800s, thousands of tulips, exploding into bloom, entertained show visitors.
Tulips from The Philadelphia Flower Show
During the height of the Victorian Era in the late 1800s rare plants like cannas, lilies, orchids, dahlias, caladiums, begonias, eucomis and succulents tantalized the imaginations of the guests. When sweet peas became an international phenomenon
in the early 1900s, they became a key feature of the Show's displays.
Rechsteineria Leucotricha
Perhaps the Show's most endearing and enduring feature, though, is its commitment to and exquisite display of amateur horticultural competitions.
Competitive Section Table Setting
From individual plant specimens to themed window box displays to fantasy table settings to fairytale floral arrangements, the Philadelphia Flower Show's Amateur Competitive Section is the largest in America and a winning ribbon from these competitions is a prize for which many wait a lifetime.
Competitive Floral Arranging
Nearly 1/3 of The Philadelphia Flower Show is dedicated to its Marketplace –one of the largest assemblages of horticultural and horticulture-related retail vendors in the US.
Individual Competitive Plant Section
Rare plant collectors, the French horticultural linen manufacturer – La Cigale,one of the largest peony collectors in the world – Peony's Envy, Ken Greene's Hudson Valley Seed Company, Maple Crest's Lilies, Elwin Floyd's magnificent framed butterfly collection, Courtney Peterson's unique floral andentymologically-inspired jewelry (you should see her bug pins and pendants), dozens of this nation's most talented painters, photographers and ceramic artists and, of course, Harvesting History all exhibit their products.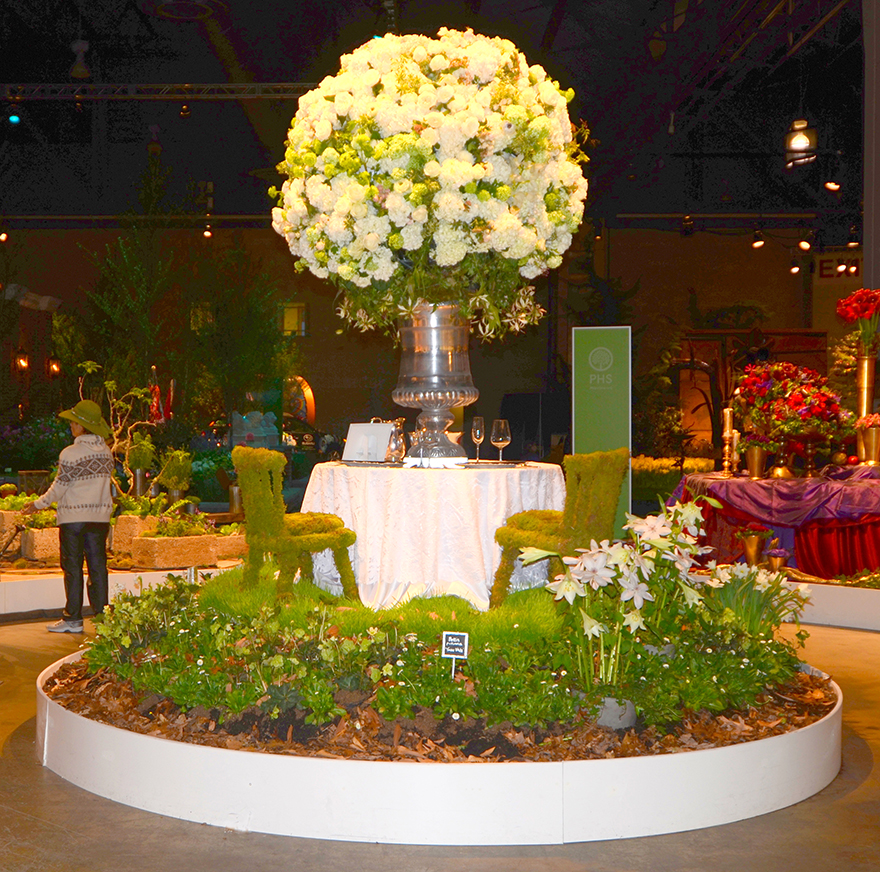 Each year new vendors are added to the mix. One of last year's most exciting new vendors was Beastly Buddies, a fantasy booth for children of handmade doll clothing and accessories with horticultural inspiration.
The Harvesting History Booth
Today the Show has grown to encompass 10-acres and more than 250,000 guests visit the displays over 9 days. From the moment that you walk through the doors and are stunned by each Show's magnificent introduction to the lavish displays to come, you know that you are about to experience theextraordinary, the unforgettable,
"the fragrant and smiling offspring of the earth, in their
richest odours and their gaudiest hues"
The Philadelphia Flower Show, from its modest beginnings, has become the largest indoor flower show in the world and, truly, one of America's greatest horticultural assets, but it should be celebrated, appreciated and loved for its commitment to the ideals upon which it and The Pennsylvania Horticultural Society were founded 192 years ago. Those ideals were so eloquently stated in the organization's original goals:
"to inspire a taste for one of the most rational and pleasing amusements of man, and to facilitate the means of cultivating that taste"
Gardening is "one of the most rational and pleasing amusements of man"and each year this incredible event reminds all of us of this truth. If you can't make the show this year, make it a personal priority to someday visit America's flower show, The Philadelphia Flower Show.
The Philadelphia Flower Show
Check Out Our Detailed Planting Videos On YOUTUBE

Basil Genovese
Harvesting History needs email addresses
If you have enjoyed this newsletter please send us
5 email addresses from your friends to
bmelera@harvesting-history.com
Don't miss our Tuesday, 3-5-2019 newsletter about
herbs that are easy to grow from seed and herbs that
should never be grown from seed.
FREE SHIPPING
on orders $50 and above
Celebrate your uniquely American horticultural heritage
Harvest Your History
Seed Your Future