Dinnerplate Dahlia, Bristol Stripe
The Dahlia Chronicles, Part III:
The Grande Dames of the Dahlia
Garden-The Dinnerplate Dahlias
THE DAHLIAS DISCUSSED IN THIS NEWSLETTER
ARE AVAILABLE ON OUR WEBSITE AT THIS LINK
THE HARVESTING HISTORY YOUTUBE CHANNEL FEATURES SEVERAL YOUTUBE VIDEOS ON PLANTING DAHLIAS. THEY ARE:
PLANTING DAHLIAS IN THE SPRING
LIFTING AND STORING DAHLIAS, CANNAS AND GLADIOLUS
In our January 11 and January 22 newsletters we told you that Harvesting History has one of the most extensive collections of dahlias offered to the US public today. I heartily encourage you to come to this link on our website and browse our collection of dahlias. In many cases, we have limited supplies, so please place your orders soon.
Dahlias are usually sold as a cluster of tubers, not as seeds. Dahlia seeds are available, but when the tubers are as inexpensive as they are, it is better to purchase tubers.
The plants come in all heights from 12 inches to 4+ feet, and the blossoms can range in diameter from 2 inches to 10 inches. They can be grown in full sun in Zones 3-7. In Zones 8-9, they can be grown in a location where they will receive morning light only.
In Zone 3, for the longest lasting results, it is recommended that dahlias be started indoors and grown in containers. In all zones dahlias make great container plants. The tall varieties will need to be staked.
Currently, there are at least 9 classifications of dahlias based on the size and shape of their blossoms. These classifications include Anemone, Cactus, Decorative, Dinnerplate, Fimbriata, Gallery, Peony Flowering, Specialty and PomPon. Harvesting History offers some dahlias in all these classifications. Today we are going to discuss the Dinnerplate Dahlias.
The Dinnerplate Dahlias
The Dinnerplate Dahlias were developed in Europe during the late 1800s. As the much traumatized dahlia tubers being shipped from Mexico to Europe began to be coddled and nourished by European growers, the plants richly rewarded their caretakers with larger and larger blossoms in a vast array of colors and color combinations. The result was an explosion of popularity for dahlias in Europe and the British Isles.
Many people dislike the dinnerplates because the blossoms are too large and the plants need to be staked. Most dinnerplate dahlias do need to be staked, but I would caution anyone writing off the dinnerplates that these are such stunning plants that they need to be a part of every flower garden. The first blossoms are usually quite large, but subsequent blossoms are usually 1-2 inches in diameter smaller. The slight decrease in size makes them much, much more manageable for bouquets. The initial blossoms are best displayed as floaters in a clear glass or crystal bowl.
Do not fertilize these dahlias with a high nitrogen fertilizer. They need phosphorus and potassium to produce large and abundant blossoms. 6-12-12 or 5-10-10 are samples of good fertilizers.
If you have never grown a dinnerplate, perhaps this is the year to try.
The Dinnerplate Dahlia, Kelvin Floodlight
This is one of the most extraordinary dahlias you could ever choose to grow.  Kelvin Floodlight is one of the oldest dinnerplate dahlias still under cultivation. The blossoms are a beautiful lemon yellow and huge.
This dahlia is truly a dinnerplate with the blossoms OFTEN measuring 8-10 inches in diameter.  This is the one dinnerplate dahlia whose blossoms, even after the first bloom, are consistently gigantic. If you are a 'competitive gardener' and your passion is growing gigantic fruits, vegetables, blossoms and plants, then Kelvin Floodlight is a great choice. The plants usually need to be staked and reach a height of 36-40 inches.
If you are a 'dramatic gardener' who adores showcasing a single blossom, then Kelvin Floodlight should be your first choice. This is an exciting dahlia!
The Dinnerplate Dahlia, Snow Country
Snow Country is the oldest, pure white dahlia in commercial production today. The plant produces a true white blossom with distinctively pointed petals that are slightly concave. The blossoms are usually slightly smaller than most dinnerplates reaching 6-8 inches in diameter with subsequent blooms in the 5-7 inch range. The foliage is green, but a dark green and this serves to emphasize the 'whiteness' of the blossom.
The plants reach a height of 40-44 inches and usually need to be staked. This dahlia is a 'must have' for floral arranging. Its 'whiteness' will serve to intensify the other colors in any arrangement.
The Dinnerplate Dahlia, Thomas Edison
For those of you who follow these newsletters, you already know that this is one of my favorite flowers, and my favorite dahlia. I wait all summer for this dahlia to bloom. Since I don't get the chance to plant my own dahlias until after the spring flower shows are over in early June, my dahlias do not begin to bloom until August and this one takes its own sweet time.
This is the legendary Thomas Edison Dahlia, introduced in 1929 and still the most popular dahlia sold today – 91 years later.
If you know much about dahlias, you know that this is nearly a miraculous achievement, because dahlias are notoriously unstable. This means that in the first 1-3 years they will bloom as promised, but after that, they often change colors dramatically. Thomas Edison, however, keeps its color year after year after year, and that color is the deepest, most stunning reddish-purple I have ever seen.
We have a funny story about this dahlia at Harvesting History. We have sold this flower for many years, and many, many, many people have commented to us about its beauty, but because it is so popular, no matter how many we order, we have always sold out by the end of March.
However, three years ago, the printer misprinted the header on the package for this dahlia. The header showed a red dahlia, not the purple one, and so at the end of the season we had a few left.  We planted them all and then promptly forgot about them until they bloomed and then we understood. The flower literally takes your breath away.
The plants reach a height of 36-40 inches and rarely need to be staked. The initial blossoms are 7-9 inches in diameter, but subsequent blossoms are in the 5-7 inch range.
For all of you who can plant your dahlias in late spring, throughout the entire summer and late into the fall, your Thomas Edison will explode with blossoms. Near the end of your season, your tired, late summer garden will come alive with the singular beauty of Thomas Edison, and when you see this, you will agree, it is good to be a gardener.
The Dinnerplate Dahlia, Bristol Stripe
Bristol Stripe is a relatively new dinnerplate dahlia. It was introduced less than 10 years ago. Today most new cultivars last only 2-3 years in commercial production and then are replaced by something new. Not so, with Bristol Stripe. This dahlia's unmatched beauty has made it a continuing success. No two blossoms on the same plant are similar, but the petals are always whimsically curled and pointed. The abundant layers of these whimsical petals give the blossoms a voluptuous presence that makes them a standout in any garden or any bouquet.
The first blossoms are 7-9 inches with subsequent blossoms slightly diminished to 6-7 inches. The plants usually need to be staked and reach a height of 40-44 inches.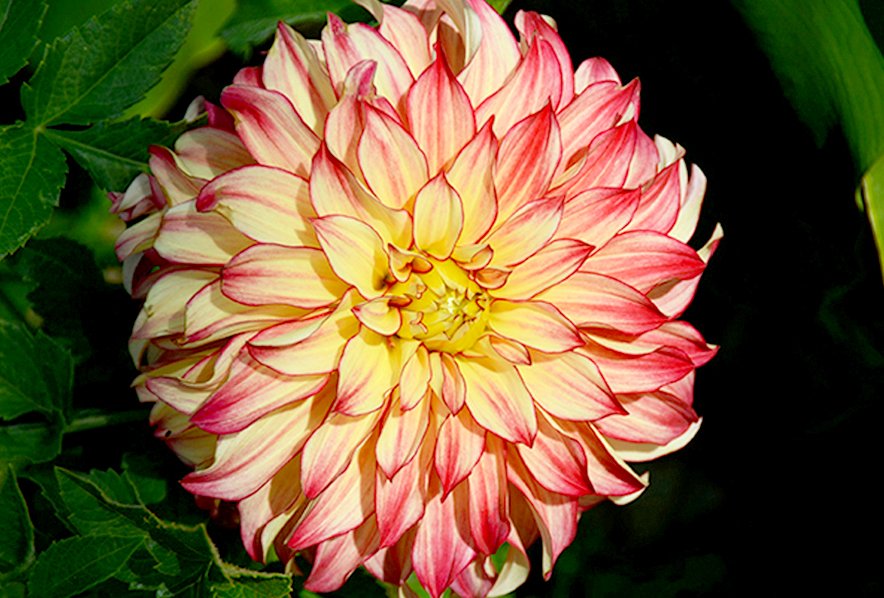 The Dinnerplate Dahlia, Lady Darlene
This is a glorious dahlia. It is one of the showiest flowers I know. There is something about the thin red edge on each petal that gives the blossom a stunning appearance. In a garden full of gorgeous dahlias, this one will still grab your attention. Lady Darlene in our experience tends to be a smaller dinnerplate maxing out around 6 inches in diameter. The plant is very prolific as long as you aggressively deadhead.
Lady Darlene is one of the shortest dinnerplate dahlias available today. The plant reaches a height of 32-36 inches and rarely needs to be staked.
If you can only have one dahlia this year, and you are not going to pick Thomas Edison, then this might be the one to try.
The Dinnerplate Dahlia, Babylon Red
One of the most famous and beloved dahlia cultivar series was the Babylon Dahlias. At one time there were three Babylon cultivars available: Babylon Purple, Babylon Bronze and Babylon Red. Babylon Red was the first Babylon dahlia introduced and is now the only Babylon cultivar still commercially produced. The first blossoms are 7-9 inches in diameter. Subsequent blossoms are in the 6-7 inch diameter range. The petals are always slightly pointed and intensely scarlet in color. Layer after layer of these dazzling petals give each blossom an incredible opulence.
The plants will need to be staked and usually reach a height of 44-48 inches. If red is your passion, then this is the dahlia for you.
The Dinnerplate Dahlia, Moonlight Sonata
Next to Thomas Edison, my favorite dahlia is Moonlight Sonata. You can see from the photo that this dahlia possesses a complex beauty that is without rival. The initial blossom can be 7-9 inches in diameter, but subsequent blossoms will never be that large. They will be in the 4-6 inch range.
Each blossom with produce an abundance of highly reflexed, whimsically curled petals in shades of salmon pink and orange, often with a burgundy blush. The overall effect is one of shear stunning elegance and reminds you that Nature is the ultimate artist.
The plants are somewhat shorter, like Lady Darlene, in the 32-36 inch range and rarely need to be staked. Because this is such a unique dahlia, I suspect it will be commercially available for only a few years. If you have an interest, I would order this dahlia this year.
Planting Dahlias: Check Out Our YouTube Video
Planting Dahlias in the Spring
Dahlias are very easy to grow as long as they have enough light and water. Dahlia tubers should be planted in late spring when the danger of frost has passed in fertile, friable soil. Dig a 12 in. diameter, 8 in. deep hole. Handling the cluster of tubers carefully, find the tip of last year's stem. Gently spread the tubers around last year's stem and place in the center of the hole. Cover the tubers with soil, making sure the cluster of tubers are at least 6 in. deep. Water in thoroughly and keep soil moist until sprouts emerge. For largest blossoms remove all but 1-2 upshoots emerging from the soil. Water and dead head frequently. Dahlias will continue to bloom profusely throughout the summer and fall until a hard frost kills the plant. Once the plants have died back, dig the tubers and store in a cool, dry, dark area.
We have found that one application of a timed release fertilizer (6-12-6) after planting is all the nourishment the plant requires, along with ample quantities of water.  Dahlias require frequent watering.  If left to dry out, they will immediately scream, THIRSTY, with dramatically drooping leaves and stems.  During most winters in Zones 6 and higher, the tubers can be left in the ground.  In Zones 5 and lower, the tubers must be dug up and stored in a dry basement.
Planting Dahlias in Containers:
Check Out Our YouTube Video
Growing Dahlias in Containers
Dahlias are some of the easiest and most rewarding plants to grow in containers. The best soil mix is 60% topsoil, 20% peat moss and 20% compost or dehydrated cow manure. The container needs to be 14 inches in diameter and 10 inches deep for one set of dahlia tubers. The tubers should be planted in late spring when the danger of frost has passed. Place 4 inches of soil I the bottom of the container. Handling the cluster of tubers carefully, find the tip of last year's stem. Gently spread the tubers around last year's stem and place in the center of the container. Cover the tubers with soil, making sure the cluster of tubers is covered by at least 6 inches of soil. Water in thoroughly and keep soil moist until sprouts emerge.
To produce beautiful blossoms and to keep the plant blooming, container grown dahlias MUST be fertilized every two weeks with a blossom booster fertilizer like Jack's Bloom Booster and MUST be deadheaded weekly. If this process is followed, you will have the most beautiful dahlias imaginable throughout the summer and well into the fall.
For the money invested, dahlias are one of the best values in the ornamental world. From mid-summer until the first hard frost of late fall, these lovely plants will produce a profusion of blossoms which beg to be cut and placed in a vase.  The more the plant's blossoms are cut, the more blossoms the plant will produce. For the gardener who always wants a vase of fresh flowers to grace the home, there is no better flower to choose than the dahlia.
Dahlias produce the most glorious blossoms and, best of all, they are truly the "last man standing" in the fall garden. When every other flower has withered and died, the dahlia will stand regally, with a crown of stunning flowers reminding you that though the season has ended for another year, spring will come again in just a few short months.
Selection of Heirloom Lettuce Varieties
Don't miss our Saturday, February 8, 2020 newsletter.
The topic will be the Romaine and Crisphead Lettuces.
These are the most cold tolerant lettuces and
throughout most of the country it is time to begin
to plant these delicious vegetables.
Celebrate your uniquely American horticultural heritage
Harvest Your History
Seed Your Future
https://harvesting-history.com
FREE SHIPPING
on orders $50 and above
Follow us on Instagram
https://www.instagram.com/harvestinghistory/