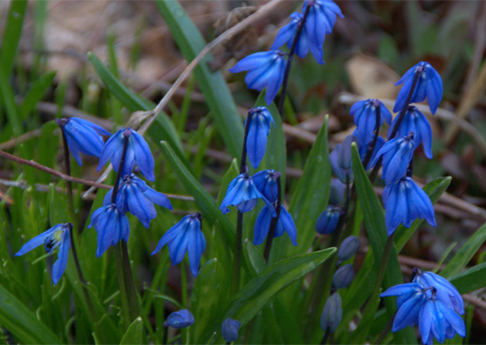 This is the third installment in a series about a remarkable class of tulips known as the Species Tulips. If you are archiving these newsletters the other two installments occurred on 9-8-2018 and 9-22-2018.

For those of you who have deer, squirrels, bunnies, chipmunks and other critters that like to decimate the spring garden before it even sprouts, there are actually many bulbs that are critter resistant, in fact, there are tulips that are critter resistant. These tulips are known as Species Tulips. These are the original wild tulips collected from Persia, the Caucasus, Africa, Southern Europe, etc. Even today, wild species are still being discovered and cultivated for commercial sale.

Understand, that after these wild species are collected and nurtured through professional cultivation, they often change dramatically. They can become taller, their blossoms can become larger, and their colors may be more vivid. That is OK, because even if you found them in the wild and brought them to your own gardens, these changes would take place. Loving care does that to most wild things.

Species Tulips originated in the mountains of Central Asia, like the Tien Shan mountains of Kazakhstan. In these rugged regions they populated hillsides and meadows in vast drifts often growing in elevations above 10,000 feet. From these regions, they were collected and carried west by enterprising travelers along the trade routes to the westernmost parts of the Ottoman Empire.

In the 16th century, these tulips made their way into Europe, smuggled out of Constantinople in the diplomatic pack of the Flemish ambassador, Ogier de Busbecq. Clusters of these tulips began showing up on the terraced vineyards and in the olive groves of France and Italy where they flourished in the much more hospitable environments.

So far we have introduced you to 8 species tulips. This week we are going to introduce you to 4 more of these special plants currently in commercial cultivation.
Don't Miss out on Garlic – Buy Now!
Yes, Tulipa biflora is tiny – no more than 4 inches tall – but planted in masses of 10-25 bulbs amid drifts of crocus, they are a glorious addition to the early spring garden, and they are a blessing for pollinators that are desperately looking for nourishment. They are also fragrant.

Biflora is native to a huge region of Asia that extends from Macedonia across the Black Sea to southwestern Russia, the Caucasus, the northern Indian Subcontinent and on to western China.  It is truly remarkable that this little plant has such a wide growing range. It was introduced into the United States around 1776, the year of our Independence!

Each bulb can produce several flower stems and each stem can produce up to 6 flowers. They may be tiny, but they are incredibly prolific. The blossoms are pure white with some green flushed on the exterior of each petal accented by grayish lavender. At the base of each blossom is a brilliant yellow blotch.

Biflora is hardy from Zones 3-6. It does not do well in the warmer zones of HZ 7-10. The bulbs should be planted 4-6 inches deep and 3-5 inches apart. They will naturalize readily, doubling in number about every 12 months.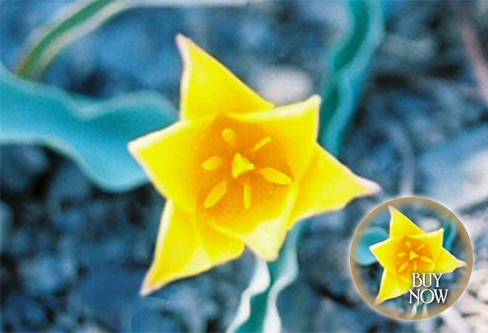 Tulipa Kolpakowskiana is one of the strongest yellow Species Tulips available. Only Tulipa Sylvestris can compete with Kolpakowskiana when it comes to blanketing the garden in yellow. The bulbs produce 1-2 blossom stems and each blossom stem produces 1-2 flowers per stem. The blossoms are pure sunshine yellow, but there can be a subtle red flush on the exterior of each petal. The base of each petal is the same shade of yellow as the rest of the petal.

Kolpakowskiana is native to Turkestan where it grows in the harsh rocky scree of the mountainsides. It was introduced into the United States in 1877.

The bulbs produce blossoms mid-season, usually sometime in April.  Each flower stem is approximately 8 inches tall. It is hardy from Hardiness Zones 3-8. Plant the bulbs 4-6 inches deep and 4-5 inches apart. Like Biflora, Kolpakowskiana naturalizes well, doubling in number yearly. It is recommended to plant at least 10 bulbs in a given area.
Don't Miss out on Garlic – Buy Now!
Daystemon is a very unusual bulbing tulip. It can multiply through 'budding' like most bulbs, but it frequently multiplies through the production of a 'stolon' which is more commonly known as a 'runner'. Therefore Daystemon can multiply in the same manner as strawberry plants.

This tulip is native to Turkestan like Kolpakowskiana and was introduced into the United States in 1877. It is hardy from Hardiness Zones 4-8.

Each bulb produces 1-2, 6 inch tall flower stems which in turn can produce 1-6 individual star-shaped flowers. The flowers are yellow at the base and ¾ of the way up each petal. Then the yellow fades to white. The exterior of each petal can be marked with flushes of green, red or purple. Daystemon blooms quite late, usually in May.

Plant the bulbs 6 inches deep and 4-6 inches apart. It shows best when planted in groups of at least 10 bulbs. Like Kolpakowskiana and Biflora, it naturalizes well.
Small (4-6 inches tall) but incredibly red. This is what you will remember about Linifolia. The stunning blossoms are a memorable deep scarlet vividly accentuated with an intense black base. When planted in groups of 10-25 bulbs, this plant is unforgettable.

Linifolia is native to Bokhara and the Pamir Mountain range in Asia where it survives in the harshest of conditions. It was introduced into the United States in 1884. The leaves are nearly as spectacular as the blossom because they have this very rare habit of undulating all around the edges. The leaves are often edged with burgundy and this enhances the undulating image of the plant.

This bulb is hardy from Hardiness Zones 4-8. It should be planted 4-6 inches deep and no more than 4 inches apart. It, too, is a good naturalizer, doubling or tripling in number each year.
Saturday, October 27, 2018, I will be delivering 2 lectures on fall planted bulbs at Rutgers Gardens in New Brunswick, NJ. These lectures are open to the public for a fee of $50 per lecture. More information is available at the following link:
http://rutgersgardens.rutgers.edu/Fallclasses.html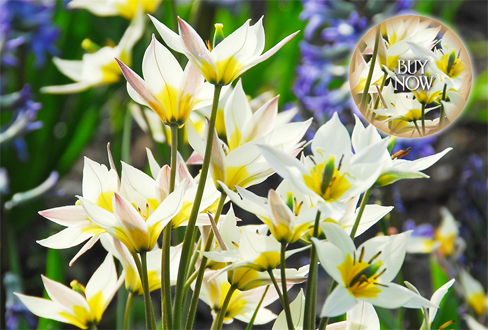 The morning lecture will discuss flower bulbs that should be planted in the fall and will take place from 10-12 noon as follows:

The Bulbs of Summer
Produce the Garden of Your Wildest Dreams from Bulbs, Tubers & Corms Planted in the Spring

Want to gaze out your window at the garden of your dreams?  Want to open the front door of your home to a vase full of exquisite dahlias?  Does your tiny patio offer little room for a flower garden?  Is container gardening your only hope for fresh flowers?  Dahlias, Cannas, Oriental and Asiatic Lilies, Callas, Caladiums, Eucomis, Bella Donna Lilies and many other bulbs, tubers and corms can be planted in the spring and with VERY LITTLE CARE will easily produce a magnificent garden.  This course will introduce you to some of the most beautiful flowers on earth and will teach you how incredibly easy it is to grow them.
The afternoon lecture will discuss vegetables and flowers that should be planted in the fall. Details as follows:

Vegetables and Flowers for Fall Planting
From Garlic to Lupines – A Detailed Lecture on the Crops for Fall Planting

We all love our spring planted gardens, but some would argue that the greatest excitement and satisfaction in gardening comes from the fall planted flowers and vegetables.  After completing the fall clean-up of your garden, put it to rest by planting some flowers, vegetables and herbs.  The cold winter months nourish and strengthen many sets and seeds.  Onions, garlic, leeks, parsnips, elephant garlic, lupines, poppies and some herbs should be planted in the fall in the Mid-Atlantic.  This lecture will provide the 'how-to' for the vegetables, flowers and herbs that can be planted in autumn and that can survive the winter planted in containers.
I will bring vegetable sets, flower bulbs and seeds to sell.  If you live in the New Jersey, down state New York, Delaware, Pennsylvania or Maryland areas, this is an event worth attending.  Rarely will you have the opportunity to learn about bulbs and then be able to purchase them on site. Please join us.
Celebrate your uniquely American horticultural heritage
Harvest Your History
Seed Your Future
https://harvesting-history.com

FREE SHIPPING
on orders $50 and above

Follow us on Instagram
https://www.instagram.com/harvestinghistory