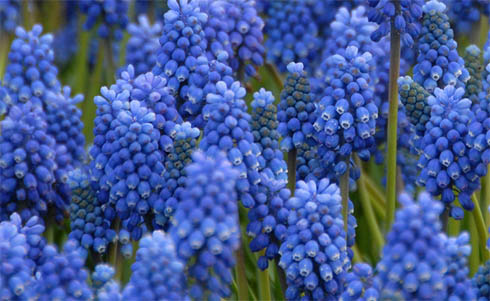 >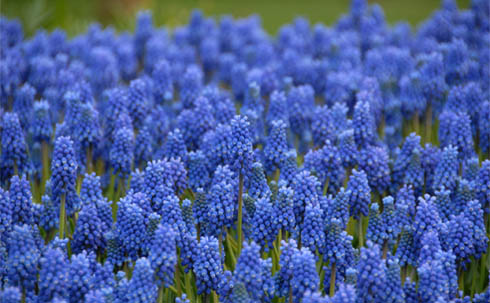 Without fail, whenever any of us venture into a Walmart, we are greeted by a kindly, gently smiling, usually older face that welcomes us into Walmart USA. The key words in this past sentence, as they apply to Grape Hyacinths, are WITHOUT FAIL, GREETED, GENTLY SMILING and OLDER for these words or their synonyms best describe the family of bulbs known scientifically as Muscari.

Muscaris are some of the most beloved flowers of spring. Without fail, they can be counted on to pop their often true blue heads out of the ground shortly after the snowdrops have faded. They are some of the most famous of Spring's greeters, and no one can pass by a drift of these curiously shaped beauties without cracking a gentle smile. They are some of the oldest spring flowers cultivated by mankind.

Muscari, also known as Grape Hyacinths or Pearls of Spain, are indigenous to the Mediterranean region where more than 50 different varieties can be found. The plants have been cultivated for many centuries. By 1576, cultivation notes indicated that muscari collected in Spain was being grown in gardens throughout Europe.

Thomas Jefferson's favorite, recorded in his diaries, was The Tassel Hyacinth, Muscari comosum.

Muscari are a vigorous species which can survive in almost any soil and naturalize easily.  The blooms of muscari last longer than any other flower.  They produce stems in succession providing flowers for weeks at a time.  They are good forcers and are usually deerproof.

In this newsletter, we will discuss four Grape Hyacinths from the most traditional, Muscari aucherie Blue Magic to the most exotic, Muscari Comosum Plumosum.
Don't Miss out on Fall Bulbs – Buy Now!
Spring is the only season where you can find an abundance of true-blue color in your garden if you plan for it. Valerie Finnes, the person, was one of the most famous and influential people in horticulture of the 20th century. She was renowned as a photographer, gardener, activist and artist. In 1975 the Royal Horticultural Society awarded her its most coveted prize, The Victoria Medal of Honour, for her many faceted contributions to horticulture.

Valerie Finnes, the Muscari, is almost as remarkable as her namesake. Muscari are meant to be planted in large clusters that drift over a hillside, slope, meadow or lawn. Most Muscari are deep purple or blue, but Valerie Finnes is a striking, vibrant pale blue. A cluster of Muscari Valerie Finnes' is simply unforgettable.

Muscari 'Valerie Finnes' first appeared as a sport in the garden of Valerie Finnes, the person, AKA Lady Scott. Several bulbs were shared with the California horticulturalist, Wayne Roderick, who in turn passed bulbs to the Dutch nurseryman, Wim de Goede, who introduced it in the 1990s.

Plant at least 25 bulbs at a time unless planting in pots. If planting in pots, a 6-inch diameter pot can hold 8-10 bulbs. They can be forced by planting in pots and refrigerated or otherwise subjected to 35-40 degree F cold for at least 10 weeks.

They are hardy from Zone 4 to Zone 8.
Botryoides 'Album' is a pure creamy white Grape Hyacinth that is native to France and Italy and was introduced in 1896. It is the most fanous of the white Grape Hyacinths. ­­­Unlike the other Muscari, Botryoides 'Album' blooms later and is usually slightly smaller. It can reach a height of 10 inches, but rarely does.  It usually reaches a height of 4-5 inches.

These bulbs should be planted much closer than other Muscari – no more than 2 inches apart, but should be planted 4-6 inches deep. It is hardy from Zones 3-8
Don't Miss out on Fall Bulbs- Buy Now!
This is the traditional Muscari known to all of us with the deep, true blue flower spikes.  It is native to Turkey. It is an aggressive self-seeder which will double and triple in number in just a few years. It is ideal as an early spring groundcover under trees.

The flower spikes are quite short 4-5 inches, but stunningly blue. The bulbs should be planted 3-4 inches apart and 4-6 inches deep. It is hardy from Zones 3-9.
Unquestionably the most exotic of all Muscari, Comosum Plumosum is a tall (10-14 inch), feathery, rose pink plant that bears absolutely no resemblance to traditional Grape Hyacinths. It is also known as The Feather Hyacinth because of the delicate flower stalks.

The plant was introduced into Europe around 1612 from its native home in the Middle East. It blooms in late March to late April and is hardy from Zones 4-8.

Plant the bulbs 3-4 inches apart and 4-6 inches deep.

It's hard to imagine a spring garden without Grape Hyacinths. When it comes to the modern American spring garden they are magic. Critters usually do not touch them. They multiply rapidly, and they require little or no maintenance. They exhibit well as a drift blanketing a hillside in color, as a group in a small pot or forced in a pot on a window sill inside. They are more American than apple pie because they reached America before the apples did, and like the 'Walmart Greeters', thanks to Mother Nature, they are as welcoming as any smiling Grandpa.
Saturday, October 27, 2018, I will be delivering 2 lectures on fall planted bulbs at Rutgers Gardens in New Brunswick, NJ. These lectures are open to the public for a fee of $50 per lecture. More information is available at the following link:
The morning lecture will discuss flower bulbs that should be planted in the fall and will take place from 10-12 noon as follows:

The Bulbs of Summer
Produce the Garden of Your Wildest Dreams from Bulbs, Tubers & Corms Planted in the Spring

Want to gaze out your window at the garden of your dreams?  Want to open the front door of your home to a vase full of exquisite dahlias?  Does your tiny patio offer little room for a flower garden?  Is container gardening your only hope for fresh flowers?  Dahlias, Cannas, Oriental and Asiatic Lilies, Callas, Caladiums, Eucomis, Bella Donna Lilies and many other bulbs, tubers and corms can be planted in the spring and with VERY LITTLE CARE will easily produce a magnificent garden.  This course will introduce you to some of the most beautiful flowers on earth and will teach you how incredibly easy it is to grow them.
The afternoon lecture will discuss vegetables and flowers that should be planted in the fall. Details as follows:

Vegetables and Flowers for Fall Planting
From Garlic to Lupines – A Detailed Lecture on the Crops for Fall Planting

We all love our spring planted gardens, but some would argue that the greatest excitement and satisfaction in gardening comes from the fall planted flowers and vegetables.  After completing the fall clean-up of your garden, put it to rest by planting some flowers, vegetables and herbs.  The cold winter months nourish and strengthen many sets and seeds.  Onions, garlic, leeks, parsnips, elephant garlic, lupines, poppies and some herbs should be planted in the fall in the Mid-Atlantic.  This lecture will provide the 'how-to' for the vegetables, flowers and herbs that can be planted in autumn and that can survive the winter planted in containers.
I will bring vegetable sets, flower bulbs and seeds to sell.  If you live in the New Jersey, down state New York, Delaware, Pennsylvania or Maryland areas, this is an event worth attending.  Rarely will you have the opportunity to learn about bulbs and then be able to purchase them on site. Please join us.
Celebrate your uniquely American horticultural heritage
Harvest Your History
Seed Your Future
https://harvesting-history.com

FREE SHIPPING
on orders $50 and above

Follow us on Instagram
https://www.instagram.com/harvestinghistory