This is the fourth installment of four retold from
Andrea Wulf's book, The Founding Gardeners.
The Constitutional Convention Story: Installment #4

A Pathway in the Bartram Garden
Monday, July 16th dawned crisp and clear and cool.
Though the air temperature had improved substantially, the tempers of the gentlemen delegates in the closed hall of the Pennsylvania State House were as hot as ever.
That Monday only 10 states (Of the 13 original colonies) were voting. Six votes would be required to either defeat or accept The Connecticut Plan.
Rhode Island was boycotting the Convention. The New Hampshire delegates had not yet arrived, and of the three New York delegates only Alexander Hamilton had arrived so that state did nothave a quorum and was not eligible to vote.
As the voting started, one by one the delegates called out "aye" or "no" to approve or disapprove The Connecticut Plan.

View of 2 of the 3 Sections of Bartram's Upper Garden
Massachusetts was called first. Two delegates said "no" and two delegates said "aye". Because the delegates were split, the Massachusetts vote would not count.
Everyone in the hall must have listened, surprised, because as a large state Massachusetts had always voted for proportional representation, but Caleb Strong, one of the delegates who had been at Bartram's Garden, switched his vote, called out an "aye" and split his state's vote.
Now five "ayes" were needed for The Connecticut Plan to be adopted.

A peaceful place in Bartram's Garden
When Virginia was called as the seventh state, all the small states had cast their "ayes" in favorof The Connecticut Plan, but that was a total of four "ayes" – not enough to approve The Connecticut Plan.
As the largest state, Virginia, led by James Madison voted a predictable "no".
There were now only three states remaining to cast their votes: North Carolina, South Carolina and Georgia – all slaveholding states that usually voted solidly with Virginia.
In the previous days and weeks they had all stood firmly united against The Connecticut Plan.
North Carolina was called next.
Alexander Martin, who had been on the trip to Bartram's Garden, rose and voted "aye".
Hugh Williamson, who had been on the trip to Bartram's Garden, rose and voted "aye".

Vegetable garden in Bartram's Garden
There must have been a moment during which a silence of realization settled over the hall as the implications of this turn-about were fully registered.
With North Carolina, a large state, voting with the block of small states, and not with Virginia, the necessary five "ayes" approving The Connecticut Plan had been cast.
The Great Compromise had been reached and the path to developing the United States Constitution had been forged.

View from the Founding Fathers' Bartram's Garden
of the American City of Philadelphia today
United States of America's most glorious trees, plants and shrubs influenced these men.
The plants in Bartram's Garden had arrived in Philadelphia from across the thirteen states where they had thrived in their native habitats, but here in Philadelphia they flourished by being together.
The graciously bowing branches of the Eastern Hemlock from the northern states protected the southern shrubs.

The Beautyberry Plant
Beautyberry, which John Bartram had brought from South Carolina and which would parade its clusters of bright purple berries on its naked branches in Autumn, flourished under the spreading canopy of the Pin Oak that grew as far north as Vermont.
What we do know is that all of the delegates who took that trip to Bartram's Garden could see how the manifold flora of each state thrived together, their branches intertwined in a flourishing horticultural union.
We also know that these men began that momentous weekend with opinions that changed dramatically after their visit to a beautiful garden.
But most significant of all, what we absolutely know is that when Alexander Martin of North Carolina, Hugh Williamson of North Carolina and Caleb Strong of Massachusetts switched their votes, they turned thirteen bitterly quarreling states into ONE NATION.
In spite of our many shortcomings, differences and bitter quarrels, we are a nation of gardeners tied together by the land. It is our heritage, our future, our greatest asset and most significantly, it is who we are.
HAPPY FOURTH OF JULY!
The picture below is of a blooming Franklinia alatamaha growing in the Bartram Gardens of today. This plant was discovered by John and William Bartram in 1765 in Georgia. They named it for their great friend and a great American leader, Benjamin Franklin. It was blooming when the delegates visited the garden in July of 1787.
A Franklinia Alatamaha

Waterlily Crocus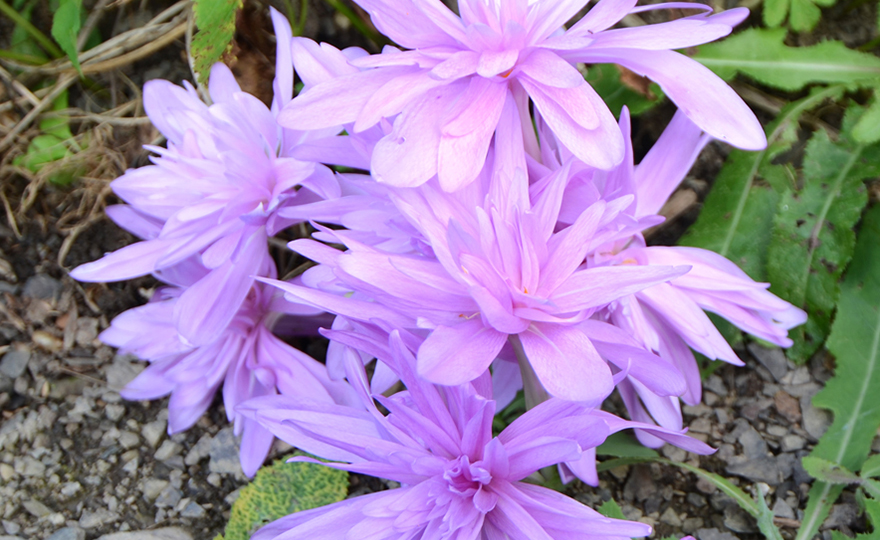 DON'T FORGET TIME IS RUNNING OUT TO
ORDER FALL BLOOMING BULBS!
Visit our website today to find your fall BLOOMING bulbsat the following link: https://harvesting-history.com/product-category/flower-bulbs-tubers/fall-blooming/
Celebrate your uniquely American horticultural heritage
Harvest Your History
Seed Your Future
FREE SHIPPING
on orders $50 and above