Allium Schubertii – The Firecracker Allium
The Alliums
You Rarely See
IMPORTANT NOTIFICATION: THE NEW FREEDOM
HEIRLOOM BULB SALE WILL BE HELD SATURDAY-SUNDAY,
OCTOBER 12-13, 2019 IN THE PARKING LOT NEXT TO
60 EAST HIGH STREET, NEW FREEDOM, PA.
THIS WILL BE COLUMBUS DAY WEEKEND, NOT THE WEEKEND
FOLLOWING COLUMBUS DAY.
ALL OF THE BULBS DISCUSSED IN THIS NEWSLETTER
ARE AVAILABLE ON OUR WEBSITE BY CLICKING ON THIS LINK:
https://harvesting-history.com/product-category/flower-bulbs-tubers/bulbs-for-fall-planting/tulips/species-tulips/
FOR SPECIFIC BULBS, YOU CAN CLICK ON THE "BUY NOW" BUTTON
LOCATED ON EACH PHOTO AND THAT BUTTON WILL TAKE YOU
TO THE WEBPAGE WHICH DISCUSSES THAT BULB
This year Harvesting History's fall newsletter series is going to focus on spring flowering bulbs that are critter resistant and great plants for nourishing pollinators. In the last six newsletters, we discussed Rock Garden Irises (Iris reticulatas), Chionodoxas (Glory of the Snow), Galanthus (Snowdrops), Hyacinthoides (Bluebells), Species Tulips and Native American Bulbs. In this newsletter, we are discussing some of the rarest varieties of Alliums. Alliums are a spring and early summer garden essential. They are beautiful, vigorous and sturdy and, of course, the deer DO NOT like them.
For those of you who know me personally, you know that I have several gardening books that I treasure. The authors are researchers whose horticultural knowledge and experience can be trusted, and their books are a glorious visual celebration of the topics detailed within. When the topic of bulbs arises, my all-time favorite book is BULB, written by Anna Pavord and published in 2009. Anna's section on Alliums in this book is one of the most enchanting pieces I have ever read. In this newsletter, I am going to quote from BULB several times because there simply is no better way to describe the topic than the way Anna Pavord describes it.
To begin a discussion of Alliums, you must listen to Anna Pavord's introduction:
"Most alliums are built on roughly the same lines: a strong,
uncluttered stem with a blob on top.
The differences have to do with the proportion of one to the other"
The Allium family includes an enormous collection of plants including leeks, onions, elephant garlic and shallots. There are more than 200 species and thousands of cultivars. In the wild, they are found all over the Northern Hemisphere including North America, the Middle East, western China, the Pyrenees, the Alps and the Mediterranean. They flourish with exposure to full sun, in rugged mountainous areas where the ground drains quickly and completely. They also love bonemeal, so add a generous helping of bonemeal (1/4 cup) to the hole where you plant each bulb.
Of all the 'critter resistant' bulbs that we discuss, the Alliums are the most 'critter resistant'. Deer, rabbits, squirrels, mice, moles and voles cannot stand the smell of Alliums. The fragrance is so strong and so offensive to critters that Alliums can be used to deter the critters from tulips and other more vulnerable bulbs. A critter has to be really desperate to eat an Allium.
Each of the Alliums discussed in this newsletter has something unique andvery special to recommend them. Schubertii is without question the showiestof all the Alliums and one of the most unusual flowers available today. It was introduced in 1843.
It grows abundantly in Palestine, Syria, northern Iran and western Turkestan where it nestles in the rich soil trapped among the large rocks on hillsides.It loves the intense heat of summer sun-baked soil.
What makes this Allium so exceptional is its flowerhead which is a mixture of4-6 inch flower stalks randomly interspersed among 6-8 inch flower stalks. When fully mature, the flowerhead is nearly a perfect globe as much as 16 inches in diameter giving the impression of an exploding firecracker, hencethe nickname, The Firecracker Allium.
Plant these bulbs at least 6 inches deep and 20 inches apart. Schubertiis show best when their globes are not overlapping and you are allowed to appreciate each single exploding firecracker.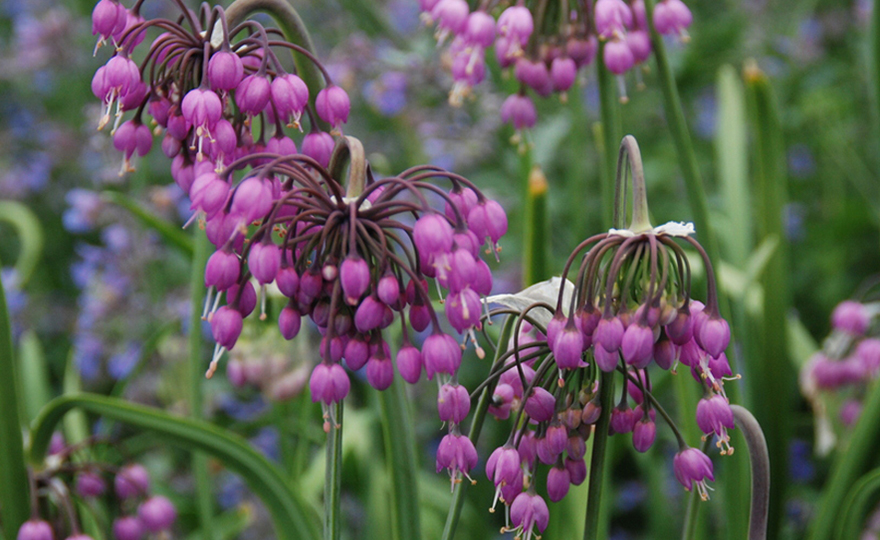 Allium Siculum Bulgaricum – The Sicilian Honey Lily
Allium siculum bulgaricum, besides having the name that is the most difficult to pronounce, is also the rarest of the alliums we are discussing in this newsletter. It has only been offered to the public for the past 3-4 years. This allium's classification is often Nectaroscordum and it is frequently called Allium siculum or Allium bulgaricum. Another scientific designation is A. dioscoridis.
A. siculum bulgaricum is native to southern France and Italy and was introduced to the public in 1873. This allium requires full sun, but requires little moisture during the summer months.
This extraordinary plant produces 30-inch tall stems from which droop (in an umbrella-like fashion) an assemblage of fragile-looking, wiry stems. Near the end of each wiry stem are clusters of bell-shaped florets flushed in purple and edged in white. As the plant emerges from the soil, it produces low, strappy foliage which browns out early.
This plant must be planted in clusters – 10 bulbs or more is the ideal number.The bulbs should be planted 6-8 inches deep and 8 inches apart in well-drained soil that dries out during the summer. Make sure to amend the soil with at least 1/4 cup of bone meal.
This plant is for those people who desire to display the rare and unique in their garden. It is not as showy as Schubertii or Karativiense. It attractiveness comes from the fact that you simply have never seen anything like this allium.

Allium Azureum AKA Allium Caeruleum
In the words of Anna Pavord,
"A. caeruleum has 20 in. (50 cm) of stem, which leads you to expect something rather splendid at the top. In fact the flower is only about 1 and 1/4 in. (4 cm) across, but the color is good, clear sky-blue. If you plant enough of them, the effect is excellent."
She is completely right. You plant Allium Azureum because of its rare, stunningly pure blue color, and the only way to really enjoy the color is by viewing it in drifts of at least 10 bulbs.
The plant is native to Siberia, so it is very rugged. It was introduced into Europe and the British Isles in 1830. As noted in BULB,
"Sometimes the flowerhead produces a miniature replica of itself,
which grows out from the center of the ball on a stem 5-6 in. (12-15 cm) long.
It creates a charmingly dotty effect, as though the flowers had forgotten
that they already had done what they set out to do."
Allium Azureum tends to bloom later than many of its cousins, sometime during early summer. The bulbs should be planted 3-4 inches deep and 1-2 inches apart.
This is my favorite Allium! Years ago, long before the internet, having not paid attention to its description, I planted 3 bulbs. In the spring, these exquisite, broad, fleshy, gray-green leaves edged in burgundy emerged from the soil. "Wow," I thought. "You could grow this plant just for its leaves alone."
Then I waited and waited and finally these large buds grew out of the center of the plant looking like the onion domes on St. Basil's Cathedral in Moscow. When the bud stems were about 4 inches tall, the buds burst and a softball-sized, white ball developed.
"What the heck is wrong with these Alliums. Why aren't they getting tall?" I thought.
Then I read the description and learned that Allium Karativiense never gets taller than 6 inches, but those white balls still command a huge presence in the garden. Clusters of 3 bulbs are all you need for most gardens.
Allium Karativiense was collected from the wild in the Karatau Mountains by the Russian plantsman, Nikolai Sewerzow. It was introduced in 1878.
This, however, is not the end of my Karativiense story. I watched each day asthis Allium graced my garden, and then, for a few weeks, I forgot about it.When I went to see it, at the end of each flower stem, the flower had disappeared and been replaced by this weirder than weird, flesh-colored, mini-blob. The lovely white softball had been replaced by a fleshy blob that surely had originated in outer space. I loved it!

The Space Alien Phase of Allium Karativiense
For those of you who have better things to do than look for space aliens in your garden, plant these bulbs a good 6 inches deep and 8 inches apart. They multiply rapidly, so think about separating them in 3 years. If you let them get crowded, the white balls get smaller and smaller and that is no fun.
Almost all Alliums make terrific dried flowers. Their flowerheads are dramatic, exotic and unforgettable. If you are going to dry Alliums, harvest them when the stems are still green and the flowers are still in full color. You can even begin by keeping them as cut flowers in a vase with water. They will last 2-3 months this way. Eventually remove the water and place in a warm, dry area with good air circulation. It will take another 2-4 months for them to complete the drying process.
This concludes our discussion of Alliums. We have many more normal varieties on our website,
https://harvesting-history.com/product-category/flower-bulbs-tubers/bulbs-for-fall-planting/allium/
Alliums are bulbs really made for our modern day lifestyles. They require little care. They last a long time in bloom and when they have finished blooming, you can use them as exotic, showy dried flowers. As I often say to each of you, they belong in every garden.
Don't miss our Saturday, September 28, 2019 newsletter
on Forcing Bulbs for a midwinter garden inside your home.
Celebrate your uniquely American horticultural heritage
Harvest Your History
Seed Your Future
FREE SHIPPING
on orders $50 and above
Follow us on Instagram
https://www.instagram.com/harvestinghistory/