Greetings Harvesting History Friends and Neighbors!
The 2019 New Year begins today and with it the start of the 2019 gardening season. This season our newsletters will focus on three types of gardeners:
• Traditional Heirloom Gardeners,
• Teachers Who Inspire Children to Become Gardeners and
• Container Gardeners
This newsletter's topic, the first of the season, is DAHLIAS.
For the money invested, dahlias are one of the best values in the ornamental world. From mid-summer until the first hard frost of late fall, these lovely plants will produce a profusion of blossoms which beg to be cut and placed in a vase. The more the plant's blossoms are cut, the more blossoms the plant will produce. For the gardener who always wants a vase of fresh flowers to grace the home, there is no better flower to choose than the dahlia.
Dahlias are usually sold as a cluster of tubers, not as seeds. Dahlia seeds are available, but when the tubers are as inexpensive as they are, it is better to purchase tubers.
Dahlias are some of the showiest of all flowers. They originated in the central plateau and highlands of Mexico where even today, in August and September, the wild progenitors of this huge flower genus can be found blooming along highways, near cliffs, among boulders and on the slopes of the ancient volcanic mountains.
The Aztecs cultivated the plant and had gardens filled with dahlias. In 1791,the plant was brought to Spain where Antonio Jose Cavanilles, a senior member of the staff of the Royal Botanic Garden in Madrid gave it the name, Dahlia, in honor of the Swedish botanist, Andreas Dahl, a pupil of Linnaeus
In the 1800's, the plant's popularity exploded throughout Europe and Great Britain and the flower returned to North America as a curiosity in the gardens of Americans. In the 1850's, in Germany, the pompom dahlia was developed, and in the 1870's in Holland, the cactus dahlia was created.
The plants come in all heights from 12 inches to 4+ feet, and the blossoms can range in diameter from 2 inches to 10 inches. They can be grown in full sun in Zones 3-7. In Zones 8-9, they can be grown in a location where they will receive morning light only.
In Zone 3, for the longest lasting results, it is recommended that dahlias be started indoors and grown in containers. In all zones dahlias make great container plants. The tall varieties will need to be staked.
We have found that one application of a timed release fertilizer (6-12-6) after planting is all the nourishment the plant requires, along with ample quantities of water. Dahlias require frequent watering. If left to dry out, they will immediately scream, THIRSTY, with dramatically drooping leaves and stems.
During most winters in Zones 6 and higher, the tubers can be left in the ground. In Zones 5 and lower, the tubers must be dug up and stored in a dry basement. There are many kinds of dahlias and the commercial classifications are not always consistent.
Harvesting History sells 7 different kinds: Decorative, Gallery, Pompon, Cactus and Dinnerplate, Peony Flowering, Anemone Flowering.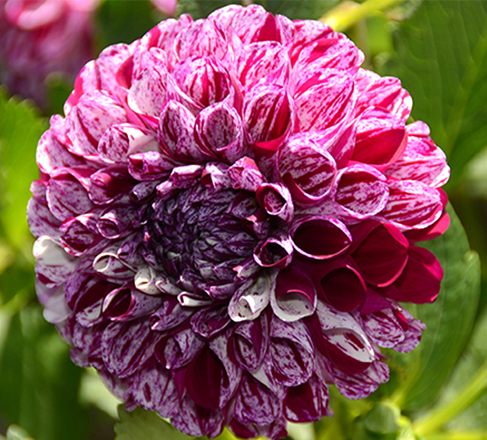 The PomPon Dahlia, Marble Ball
Pompon Dahlias are so named because of the shape of the blossom which forms an almost perfect ball. Pompons are small wooden balls or bundles of yarn attached to clothing like hats for decoration. The plants come in a range of heights. The blossoms make excellent cut flowers.
Marble Ball is an extraordinary dahlia. It is a perfectly shaped ball, with perfectly sculpted petals painted with rich, burgundy or purple flecks on a white background. This dahlia is always one of the first to sell out each season. The foliage is dark green with brownish burgundy stems. No two flowers are similar on an individual plant. By itself in a vase, a cluster of these dahlias is stunning.
Cactus dahlias are so named because their petals are much thinner than other dahlias and come to a point which gives them a somewhat spike-like appearance.
In 1872, J. T. van der Berg of The Netherlands received a crate of dahlia tubers from Mexico. The tubers were in very bad condition, but as van der Berg sorted through the box, he found one piece of a tuber that still seemed to be alive. He planted it, and throughout 1872-1873, he propagated it through cuttings from his original plant.
As it began to bloom, he realized that he possessed a dahlia unlike any known in Europe. His dahlia had long, thin, pointed, deep crimson petals. The petals curved dramatically backward. The plant initiated an explosion of interest in dahlias. The French called the cactus dahlia "Les Etoiles de Diable" (The Stars of the Devil), but elsewhere they were called 'cactus dahlias'.
At the time, it was considered to be a spontaneous mutation, but today scientists believe that the cactus dahlia, at one time, grew in the wild in Mexico, but disappeared. It was probably pure luck that the partial tuber found in van der Berg's crate of dahlias had a remnant of this very rare dahlia.
Nuit d'Ete is a fabulous cactus dahlia and one of the blackest of all dahlias. Each 4-6 inch diameter blossom is a collection of sharply pointed petals that exude dynamicism. The 36-40 inch plants are abundant producers.

The Dinnerplate Cactus Dahlia, Hayley Jane
Of all the cactus dahlia varieties, Hayley Jane is definitely the most dramatic. Its long, (Hayley Jane is also considered to be a dinnerplate dahlia because of its size) wirey petals literally dance around the stem. The blossom is primarily pink with a white center. As with many dahlias, no two blossoms on a single plant are the same. The foliage is bright green.
Hayley Jane was bred by the British dahlia breeder, Titchard, and introduced in 1977.

The Dinnerplate Dahlia, Thomas Edison
Dinnerplate Dahlias are large plants which produce the biggest blossoms. The plants grow to at least 42 inches high, but more commonly 48-60 inches.The very first blossom each season will be the largest, and it is often a good 8 inches in diameter. Well cared for plants can produce a succession of very large blossoms, but most of the time the blossom size "diminishes" to about 6 inches after the first flower.
For those of you who know me, you already know that this is one of my favorite flowers, and my favorite dahlia.
I wait all summer for this dahlia to bloom. Since I don't get the chance to plant my own dahlias until after the spring flower shows are over in early June, my dahlias do not begin to bloom until August and this one takes its own sweet time.
This is the legendary Thomas Edison Dahlia, introduced in 1929 and still the most popular dahlia sold today – 83 years later.
If you know much about dahlias, you know that this is nearly a miraculous achievement, because dahlias are notoriously unstable. This means that in the first 1-3 years they will bloom as promised, but after that, they often change colors dramatically. Thomas Edison, however, keeps its color year after year after year, and that color is the deepest, most stunning reddish-purple I have ever seen.
The flower literally takes your breath away.
For all of you who can plant your dahlias in late spring, throughout the entire summer and late into the fall, your Thomas Edison will explode with blossoms. Near the end of your season, your tired, late summer garden will come alive with the singular beauty of Thomas Edison, and when you see this, you will agree, it is good to be a gardener.
Dinnerplates are truly breathtaking. A single blossom from a dinnerplate dahlia floating in an elegant glass bowl will often make a more dramatic statement than an entire bouquet of smaller blossoms.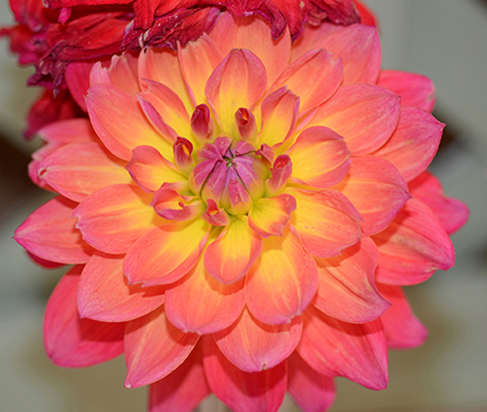 The Gallery Dahlia, Jowey Gypsy
Gallery Dahlias are the shortest of the dahlia plants. Most Gallery Dahlia plants are less than 2 feet tall and the blossoms are approximately 2 inches in diameter.
These plants make very showy flower garden borders, because once they start blooming, they are usually covered with blossoms. The blossoms can also be used for cut flowers, but often their stems are quite short. These plants need to be deadheaded at least weekly to keep the blossoms coming.
For me, Jowey Gypsy is the sunshine dahlia. The 24 inch plants produce an abundance of large (for a Gallery Dahlia) 3-4 inch pink blossoms with petals that fade into yellow at the center. When the sunlight falls on these blossoms the yellow seems to be almost iridescent. It is worth growing this dahlia just to experience the effect of sunshine on its blossoms.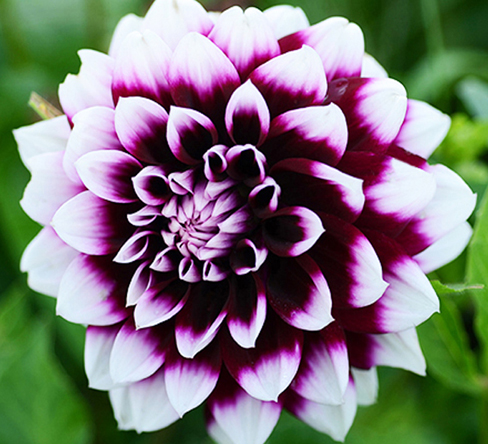 The Decorative Dahlia, Aitara Diadem
The 1920s and 1930s in Europe and America became known as the Golden Age of Dahlia Breeding. It was during this period that the large flowering varieties were developed as well as many of the intense colors.
Unfortunately very few heirloom varieties have survived until the present. Some have been lost, but because of a natural genetic tendency for instability in color, size and shape of petal known as "bottom recessive", many of the old varieties have simply just evolved to something else.
The Decorative Dahlias are tall plants ranging in height from 36-48 inches. The blossoms are usually 4-5 inches in diameter. These are the dahlias that one thinks of as the traditional dahlias, and their blossoms make exceptional cut flowers
Aitara Diadem is a stunning bi-color dahlia whose opulence will dominate any garden environment. The pinkish white, broad, rounded petals fade into a deepest burgundy center and the overall effect is exquisite.

The Peony Flowering Dahlia, Bishop of Llandaff
The Peony Flowering Dahlias have 2-3 layers of broad petals and a large central disk. The plants range in size from 30-48 inches. Blossoms range in size from 4-6 inches.
Bishop of Llandaff may be the most famous dahlia in cultivation. Its popularity arises from the extraordinary color of its deep red blossoms set against the deep bronze of its foliage. I have yet to see a photo that does this plant justice. Introduced in 1929, this dahlia, like Thomas Edison, is incredibly consistent and truly unforgettable.

The Anemone Flowering Dahlia, Floorinor
Anemone Flowering Dahlias have 1-2 layers of short, broad petals surrounding a large dense grouping of tubular florets that usually differ in color from the petals. The effect is purely exotic.
One of the most unusual of all the dahlias in our collections is Floorinor. The 2 1/2 to 3 inch diameter blossoms are so unusual. A single layer of orange- to-salmon pink petals fade into sunshine yellow at the center where a large puffball of orange, yellow and salmon pink dominates the entire center. The plant has dark green foliage which is quite striking against the blossoms.
For Container Gardeners

The Dinnerplate Dahlia, Dazzling Magic
Few plants are easier to grow and flourish more in containers than dahlias. Plant one set of dahlia tubers in a 14 inch container about 4 inches deep.
The absolutely best soil mix for containers is 60% crummy backyard soil, 20% peat moss and 20% dehydrated cow manure or, even better, compost. If you blatantly refuse to use backyard soil then purchase topsoil (not potting soil, special soil mixes, premium soil). Mix the ingredients together and pour into a pot.
At the time of planting, apply some time-release, blossom booster fertilizer and remember to water frequently. Deadhead (cut spent blossoms) frequently – at least once a week.
For Teachers Who Inspire Children to Become Gardeners

The Fimbriata Dahlia, Kogana Fubuki
This new section is dedicated to teachers of children: school teachers, parents, grandparents, aunts, uncles, next door neighbors and those who love to have children be with them while they toil in the garden. Its purpose is to share with each of you some extraordinary fruits, vegetables, flowers and herbs that will capture the imagination of children and teach them how to be inspired gardeners.
There is no flower that will inspire a child's wonder like the dahlia. The extraordinary size of most dahlia blossoms and their vivid colors can compete with and beat any image produced on a video game. Children can literally grow dahlias all by themselves with stunning results. Gardening is about learning, doing, instilling values and, most important of all, creating lifelong memories. Growing dahlias with children accomplishes all of these objectives.
If you could only have one flower – one single flower – in your garden, I would recommend a dahlia. If you are a die-hard vegetable gardener with no interest in and no space for anything else, I would tell you, "Make space for a dahlia!". This lovely generous plant will afford you more joy, fascination and pleasure than just about anything else you put in your garden. Try one!
Harvesting History needs email addresses. If you have enjoyed this newsletter please send us5 email addresses from your friends tobmelera@harvesting-history.com
Don't miss our newest dahlia video premiering on YouTube on New Year's Day!
While you are on YouTube check out our newvideo on PEAS, too!
Celebrate your uniquely American horticultural heritage
Harvest Your History
Seed Your Future
https://harvesting-history.com
FREE SHIPPING on orders $50 and above
Follow us on Instagram https://www.instagram.com/harvestinghistory/