The Paste/Plum Tomatoes-
Good for Everything!
Of the three morphological classes of tomato – cherry, slicing/sandwich and paste/plum – the paste/plum tomatoes are the least popular. This is unfortunate because paste/plum tomatoes are, literally, good for everything. Cherry tomatoes are too small for making sandwiches and roasting and too much work to put in sauces, but they are great in salads and for popping in your mouth straight from the vine. Sandwich/slicing tomatoes are great for sandwiches, but they are usually too watery for sauces and salads. Paste/plum tomatoes have it all.
Like cherry tomatoes they are small enough and firm enough to be eaten in salads and right off the vine. Like sandwich/slicing tomatoes they are just large enough to be used for sandwiches, but unlike their morphological cousins, their firm flesh and intense flavor make them exceptional candidates for roasting and sauce.
Earlier this year I wrote about three of the tomatoes described in this newsletter: the Orange Banana, the San Marzano and the Amish Paste. Please forgive the repetition and consider it a reminder. These three paste/plum tomatoes are just that good. To these three, in this newsletter, I will add the Roma tomato because it is the most popular of all the paste/plum tomatoes.
For most of the US, tomatoes need to be started indoors six weeks before the last frost. Many gardeners start their tomato seedlings WAY TOO EARLY, and the plants become leggy before they are ready to be planted outside. The result is that the plants suffer prolonged transplant shock. No matter how excited you are to get your seedlings started, please do not plant your tomato seeds until 6 weeks before your last frost.
To start your tomatoes, plant the seedlings in biodegradable containers like homemade paper pots or peat pots. To minimize transplant shock, it is better to plant the seedling and its pot. Tomato seeds germinate best on top of a subtle warming source like the top of a refrigerator. They do not need sunlight until germination has occurred. When the seedlings have sprouted, move them to an indirect light source like a north facing window. When the second set of leaves emerge, move the seedlings to a direct light source like a south or west facing window or under a plant light. If you use a plant light, make sure it is always close to the seedlings, no more than 2 inches away.
A week before it is time to move the seedlings outside, begin to 'harden' them off by placing them outside during the day and bringing them inside during the night. For the last 2 days, leave the seedlings outdoors through the night.
When planting, pinch all of the leaves off the seedling leaving only the last 4 leaves and bury the seedling up to, but not covering, those leaves. Give tomato plants 2 feet between plants. On the day of planting, circle the seedling with a half cup of bone meal and then fertilize once every three weeks throughout the fruiting season. Tomato plants must be grown in full sun meaning at least 6 hours of strong sunlight. During very hot summers where the night time temperatures are above 90 degrees for more than a week, tomato plants often slip into dormancy, producing no new fruit or flowers. Once the nighttime temperatures begin to cool, the plants will come out of dormancy and begin to flower and set fruit again.
One of my absolute favorite tomatoes of any kind is the Orange Banana tomato. This garden beauty has a complex flavor that is both tomatoey and sweetly fruity. I think it makes the very best sundried tomatoes, but I also make orange tomato sauce from the fruit and combine it with red tomato sauce (like San Marzanos) to produce some of the most flavorful sauces I have ever tasted.
Orange Banana, when sliced lengthwise and roasted, is out of this world.
Orange Banana plants are very prolific producing 40-50+ fruits on a single plant. The oblong, pointed fruits range in size from 4-6 ounces.
The Roma tomato has an interesting history. Many believe because of its name that it originated in Italy, but this is not the case. The Roma tomato was developed by the USDA using traditional breeding techniques and introduced to the American public in 1955. As of 2005, it officially became an heirloom tomato. There are no records of how this tomato was bred, but it is believed to be a cross between San Marzano and the Pan American tomato, a variety that is not commercially available today.
Romas are shorter, fatter and redder than San Marzanos. The 4-5 ounce fruit has a dense flesh and very small seed cavity. The flavor is savory with some sweetness. The indeterminate plants are very vigorous and disease resistant and produce abundantly: 40+ fruit per plant.
San Marzano is truly a legendary tomato. As far as we Americans are concerned, it is the original Italian paste tomato. It was introduced in Italy in 1926 by the Italian seed house Fratelli Sgarqavatti. This tomato reached the US 4 years later in 1930 when it became commercially available through the Italian import company, DiGiorgi Brothers of Council Bluffs, Iowa. Amy Goldman, in her remarkable book, The Heirloom Tomato, calls San Marzano,
"The most important industrial tomato of the 20th century."
San Marzano has a deeply rich, savory flavor that helps to create outstanding sauces and memorable sundried and roasted tomatoes. The 4-5 inch long fruits are vivid red with large cavities for holding balsamic vinegar and other luscious condiments to enhance roasted tomatoes. The plants are unbelievably prolific – easily 50-80 fruits per plant.

All of the tomatoes discussed in this newsletter will thrive when grown in containers. Often tomatoes do better in containers than they do in the ground.
If you are going to grow tomatoes in containers, there are a few rules you should follow. Tomatoes should be grown in pots that are at least 18 inches in diameter and 14-16 inches deep. ONE PLANT PER CONTAINER.
The absolutely best soil mix for containers is 60% crummy backyard soil, 20% peat moss and 20% dehydrated cow manure or, even better, compost. If you blatantly refuse to use backyard soil then purchase topsoil (not potting soil, special soil mixes, premium soil). Mix the ingredients together along with some Timed-Release Blossom Booster fertilizer and pour into a pot so that the pot is half full.
Most tomatoes require staking, so plant the stake when you plant the seedling. Also, on the day you plant the seedling, place a generous ring (1/2-3/4 cup) of bonemeal around the seedling, approximately 6 inches from the stem. The ring of bonemeal will be approximately 12 inches in diameter.
If you are growing Heirloom Tomatoes, you will have to apply the bonemeal ring every two weeks for the first six weeks. Heirloom Tomatoes are very susceptible to blossom end rot which is a calcium deficiency. The bonemeal very effectively cures this problem. Container grown tomatoes must be fertilized at least every other week with full strength fertilizer that is rich in phosphorus. Tomato plant food does a good job. Plants that are not fed in this way will have limited fruiting.
Teaching children how to grow tomatoes is one of the kindest, most emotionally rewarding, interesting and fun activities you will ever do. The knowledge, pleasure and culinary rewards you share with a child during this process cannot be equaled.
Amish Paste is a wonderful tomato to grow with children. The fat, plum-shaped, deliciously sweet fruit are just perfect for little hands and mouths. Amish Paste is believed to be a very old variety and was first grown in the 1870s by the oldest Amish community in the United States located in Medford, Wisconsin.
The variety began to receive national attention when Thomas Jon Hauch of Heirloom Seeds received seeds from the Amish in Lancaster County, PA in the early 1980s. He shared seeds with The Seed Savers Exchange of Decorah, IA, and in 1987 SSE made the seed available to their members.
Amish Paste is one of the truly reliable, consistently prolific, tomato plants to grace this earth. The vines may look like they are on their 'last legs', but they still keep producing and producing and producing. If you depend upon your garden to generate enough tomato sauce/paste/sundried tomatoes to get you through the winter, then this is a tomato for you. A single plant will produce 50+ fruit.
The fruit is plum shaped, usually 6 ounces. The flesh is sweeter than other paste tomatoes, and because of this, Amish Paste make excellent sundried tomatoes.
Amish Paste tomatoes usually contain more seeds, but I have never found that to be a problem.
Amish Paste because it is so prolific would be
my choice if I could only grow one tomato.
We hope this newsletter has reminded you of or introduced you to some great paste/plum tomatoes. I believe that if you have extremely limited space, enough for only one tomato plant, that a wise choice is a paste tomato variety. Paste tomatoes are big enough to use for sandwiches and salads. They make the best sundried tomatoes, and, of course, they make great tomato paste/sauce.
CHECK OUT OUR DETAILED VIDEOS ABOUT
GROWING TOMATOES IN CONTAINERS ON YOUTUBE
Harvesting History needs email addresses.
If you have enjoyed this newsletter please send us
5 email addresses from your friends to
bmelera@harvesting-history.com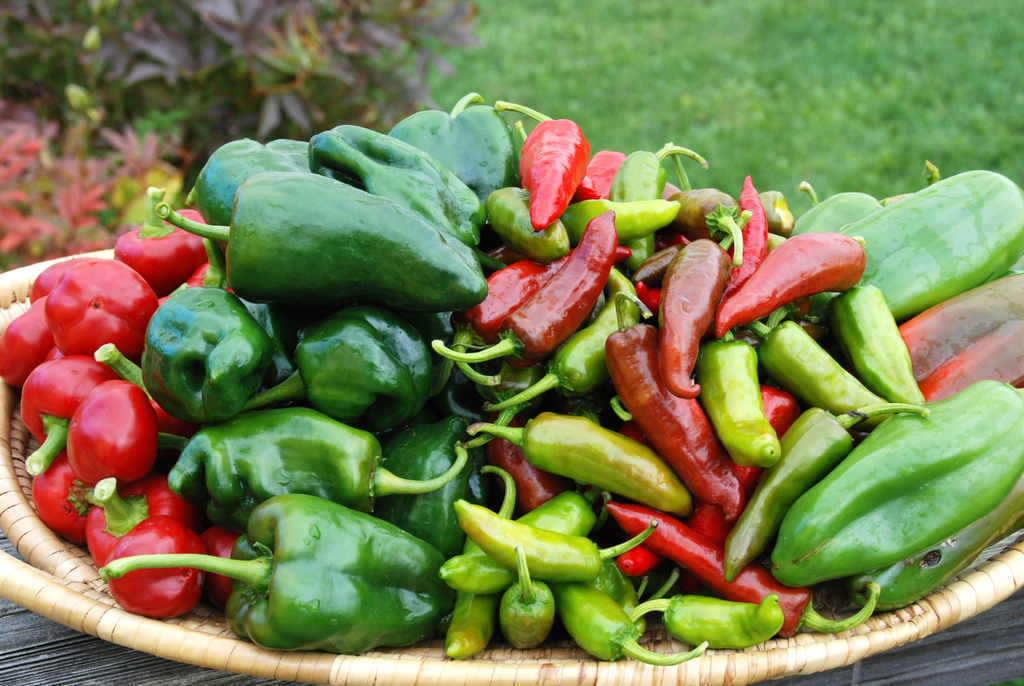 Don't miss our Saturday, 2-23-2019 newsletter
on Heirloom Hot Peppers
FREE SHIPPING on orders $50 and above
Celebrate your uniquely American horticultural heritage
Harvest Your History
Seed Your Future