TULIPA HUMILIS ALBA COERULEA OCULATA
The Ancient Wild Tulips-
Genuinely Critter Resistant
IMPORTANT NOTIFICATION: THE NEW FREEDOM HEIRLOOM BULB SALE WILL BE HELD SATURDAY-SUNDAY, OCTOBER 12-13, 2019 IN THE PARKING LOT NEXT TO 60 EAST HIGH STREET, NEW FREEDOM, PA. THIS WILL BE COLUMBUS DAY WEEKEND, NOT THE WEEKEND FOLLOWING COLUMBUS DAY.
ALL OF THE BULBS DISCUSSED IN THIS NEWSLETTER ARE AVAILABLE
ON OUR WEBSITE BY CLICKING ON THIS LINK:
https://harvesting-history.com/product-category/flower-bulbs-tubers/bulbs-for-fall-planting/tulips/species-tulips/
FOR SPECIFIC BULBS, YOU CAN CLICK ON THE "BUY NOW" BUTTON
LOCATED ON EACH PHOTO AND THAT BUTTON WILL TAKE YOU TO
THE WEBPAGE WHICH DISCUSSES THAT BULB
This year Harvesting History's fall newsletter series is going to focus on spring flowering bulbs that are critter resistant and great plants for nourishing pollinators. In the last four newsletters, we discussed Rock Garden Irises (Iris reticulatas), Chionodoxas (Glory of the Snow), Galanthus (Snowdrops), Hyacinthoides (Bluebells) and Species Tulips. In this newsletter, we are continuing our discussion of Species Tulips – the original wild tulips that are critter resistant.
For those of you who have deer, squirrels, bunnies, chipmunks and other critters that like to decimate the spring garden before it even sprouts, there are actually many bulbs that are critter resistant, in fact, there are tulips that are critter resistant. These tulips are known as Species Tulips. These are the original wild tulips collected from Persia, the Caucasus, Africa, Southern Europe, etc. Even today, wild species are still being discovered and cultivated for commercial sale. Understand, that after these wild species are collected and nurtured through professional cultivation, they often change dramatically. They can becometaller, their blossoms can become larger, and their colors may be more vivid. That is OK, because even if you found them in the wild and brought them to your own gardens, these changes would take place. Loving care does that to most wild things.
Species Tulips originated in the mountains of Central Asia, like the Tien Shan mountains of Kazakhstan. In these rugged regions they populated hillsides and meadows in vast drifts often growing in elevations above 10,000 feet. From these regions, they were collected and carried west by enterprising travelers along the trade routes to the westernmost parts of the Ottoman Empire.
In the 16th century, these tulips made their way into Europe, smuggled out of Constantinople in the diplomatic pack of the Flemish ambassador, Ogier de Busbecq. Clusters of these tulips began showing up on the terraced vineyards and in the olive groves of France and Italy where they flourished in the much more hospitable environments.
In the last newsletter, we introduced you to 4 species tulips (Check out the 9-10-2019 newsletter). Today we are going to introduce you to 4 more Species Tulips. Their colors/size/shape make them real standouts in any garden.

SPECIES TULIP – TULIPA HUMILIS ALBA COERULEA OCULATA
For such a tiny tulip (5 inches) this little guy makes a huge statement in your garden. The striking purple base can be easily seen as the blossom's pure white petals unfold. The contrast of the purple against the white is simply stunning.
Tulipa humilis is actually a group of tiny wild tulips whose colors range from the deepest burgundy to the dazzling white of Alba Coerulea Oculata. They are known to inhabit the areas above 10,000 feet in the Hamadan Province of Iran.
Alba Coerulea Oculata is an early bloomer. Bulbs are difficult to source so we are only able to offer a bag of 5 bulbs. No larger quantities are available. Bulbs should be planted 4-6 inches deep and 2-3 inches apart. This tulip will return each year and will multiply – doubling in number about every 3 years.
It is a treasure from the tulip kingdom's ancient past.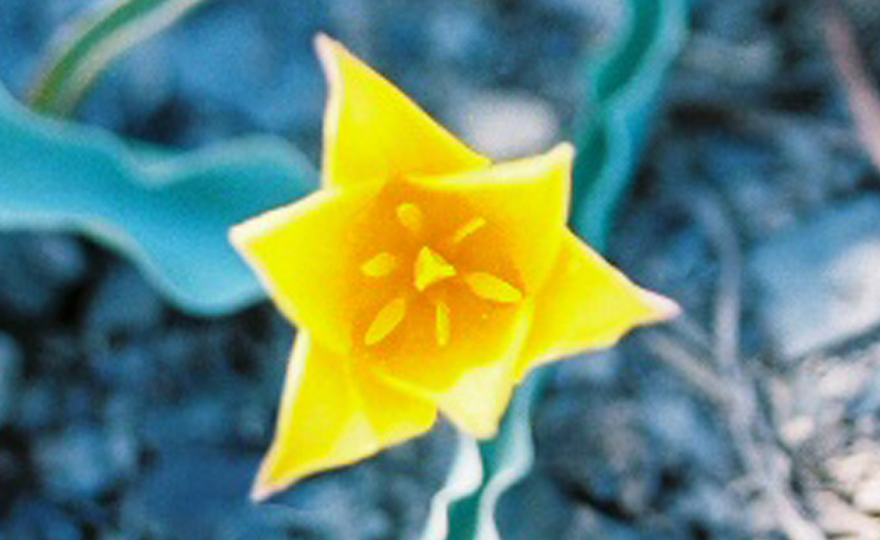 SPECIES TULIP – KOLPAKOWSKIANA
Tulipa Kolpakowskiana is one of the strongest yellow Species Tulips available. Only Tulipa Sylvestris can compete with Kolpakowskiana when it comes to blanketing the garden in yellow. The bulbs produce 1-2 blossom stems and each blossom stem produces 1-2 flowers per stem. The blossoms are pure sunshine yellow, but there can be a subtle red flush on the exterior of each petal. The base of each petal is the same shade of yellow as the rest of the petal.
Kolpakowskiana is native to Turkestan where it grows in the harsh rocky scree of the mountainsides. It was introduced into the United States in 1877.
The bulbs produce blossoms mid-season, usually sometime in April. Each flower stem is approximately 8 inches tall. It is hardy from Hardiness Zones 3-8. Plant the bulbs 4-6 inches deep and 4-5 inches apart. Kolpakowskiana naturalizes well, doubling in number yearly. It is recommended to plant at least 10 bulbs in a given area.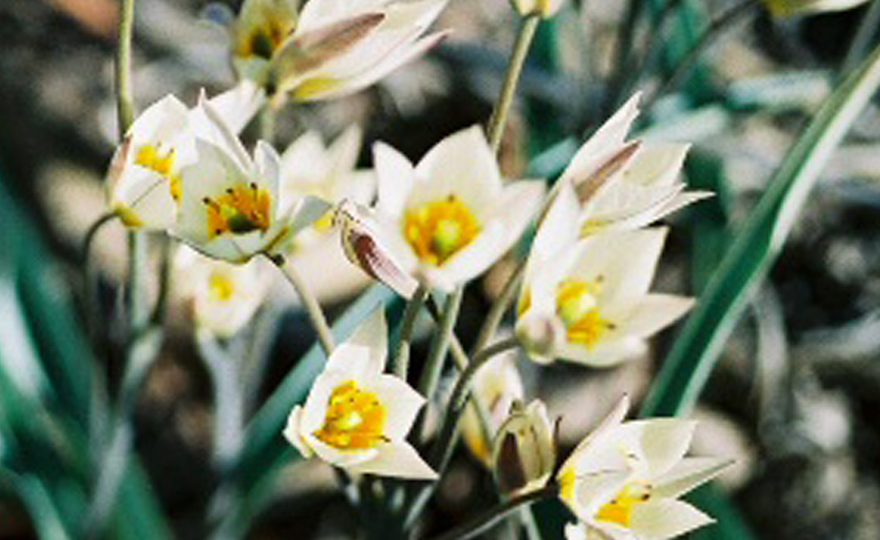 SPECIES TULIP – DAYSTEMON (AKA T. TARDA)
Daystemon is a very unusual bulbing tulip. It can multiply through 'budding' like most bulbs, but it frequently multiplies through the production of a 'stolon' which is more commonly known as a 'runner'. Therefore Daystemon can multiply in the same manner as strawberry plants.
This tulip is native to Turkestan like Kolpakowskiana and was introduced into the United States in 1877. It is hardy from Hardiness Zones 4-8.
Each bulb produces 1-2, 6 inch tall flower stems which in turn can produce 1-6 individual star-shaped flowers. The flowers are yellow at the base and 3/4 of the way up each petal. Then the yellow fades to white. The exterior of each petal can be marked with flushes of green, red or purple. Daystemon blooms quite late, usually in May.
Plant the bulbs 6 inches deep and 4-6 inches apart. It shows best when planted in groups of at least 10 bulbs. Like Kolpakowskiana, it naturalizes well.

SPECIES TULIP – TULIPA PRAETANS FUSELIER
The 'Praestans' family of tulips was unknown to Europeans and Americans until the latter part of the 19th century when Russian travelers began to explore the regions of Central Asia. The plants are primarily native to Tadjikistan where they grow on steep hillsides at an elevation of 6000 feet.
Most 'Praestans' are white with deep purple blotches at their base, but 'Fuselier' is much different. It is much taller, growing to a height of 10-12 inches. Its blossoms are a truly brilliant scarlet and are the largest of the 'Praestans'. Each stem may produce multiple blossoms.
It is the showiest of the Species Tulips. It produces a definitive presence in the garden with as little as 5 tulips. A drift containing 10-25 bulbs will be a dominant spectacle in any size garden. Bulbs should be planted 6 inches deep and 3-4 inches apart.
If you miss seeing the tulips in the spring, try the Species Tulips. They are smaller than the grand tulips that the deer love so much, but their colors are becoming as vivid and the ones described in this newsletter, when planted in sufficient numbers, will produce a springtime garden as showy as any tulip garden.


SPECIES TULIP – TULIPA SAXATILIS
Don't miss our Tuesday, September 17, 2019 newsletteron Species Tulips Part III. Species Tulips are the only tulips that are critter resistant, and they genuinely are critter resistant.
Celebrate your uniquely American horticultural heritage
Harvest Your History
Seed Your Future
FREE SHIPPING
on orders $50 and above