The Melon By Amy Goldman (Shipping Included)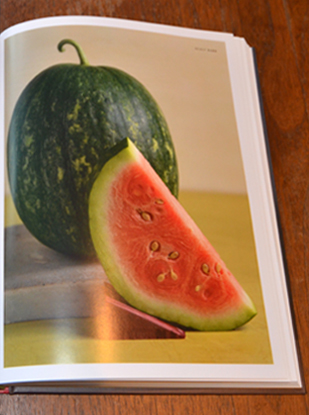 Quick Overview
The Melon
By Amy Goldman
Photographs By Victor Schrager
Published By City Point Press and Distributed Worldwide By Simon & Schuster
September, 2019
312 pages

The Melon is the most comprehensive discussion of melons and watermelons available today. The hardcover book discusses 125 different fruit – 85 melons and 40 watermelons. The text discussions are enhanced and enriched by the extraordinary photographs created by Victor Schrager, Amy Goldman's longtime colleague.
***Only available through Harvesting History, each book comes with a sack of melon and watermelon seeds described in The Melon.***
The Melon
By Amy Goldman
Photographs By Victor Schrager
In 2002 Amy Golden began, through her research, her writings and her lifelong personal gardening experiences, to preserve the preciously rare details of our horticultural heritage and to endow her readers with an understanding of and appreciation for the art and science of growing melons. Her first book, Melons, For the Compassionate Grower, was a stunning combination of scientific facts, historical research, literary excerpts and passionate anecdotes, the likes of which had never been seen in horticultural literature. Melons For the Compassionate Grower was followed in 2004 by The Compleat Squash and in 2008 by her tomato opus, The Heirloom Tomato. In 2015, she introduced her first artistic book, Heirloom Harvest: Modern Daguerreotypes of Historic Garden Treasures. The Melon, her fifth book, is going to be considered by many, including me, her best work to date.
The Melon is easy and pleasurable to read: sometimes fascinating, often funny and on rare occasions intriguing. This book is not just the most comprehensive text on melons written today. It is an important horticultural asset that should be a part of every gardener's collection of books on plants whether they raise melons or not. At a time when significant amounts of our horticultural knowledge are being lost through the denigration of books and the passing of truly knowledgeable plant experts, The Melon captures as completely as is currently possible the story of melons.
The Melon, though, is not a treatise. It is a pure Amy Goldman and Victor Schrager collaboration which translates to a loving, passonate, artistically exceptional, historically accurate, visually exquisite literary experience. After you purchase this book (and, I suspect, you will purchase this book1) you will spend moments, for years in the future, revisiting the stories, data and photographic artistry contained in this book. I would venture to say that there is not a vegetable photographer alive today with the talent of Victor Schrager. The photographs in this book will entertain and illuminate you for as long as you possess this book.
Every part of this book exudes the gentle affection that Goldman and Schrager have for the subject matter. I love that they call the descriptions of the individual melons, "portraits". I love Amy's anecdotes like the story of the Moon & Stars watermelon on page 154 or her personal comments after each melon description in the section entitled "Melon Varietal Descriptions". Her personal knowledge of and gardening experience with each and every one of the melons included in this book is what elevates this book to the level of exceptional.
The section devoted to recipes includes 20 melon recipes. I have only tried two so far, but I can tell you Watermelon Gin Rickey is a great summer drink especially if you let it sit for a half hour to an hour so that all the flavors blend superbly, and the Charantais, Blackberry and Limoncello Trifle is one of the best, most exquisite and refreshing summer desserts you could ever make. This is coming from someone who only likes custard in her trifles and isn't particularly fond of whipped cream. One caution, make sure you stick with the exact quantities in this recipe. I cheated and ate two slices of the pound cake before making the dessert. It needed the extra pound cake.
It is rare today to find horticultural books authored by the individuals who actually grew all of the specimens described in the contents. It is extremely rare to find a book where the author has grown the specimens for decades. In fact, it is unheard of. In our mass produced world, the data for many horticultural books is a team effort, and it is a staff of workers who have done the growing – not so with an Amy Goldman book.
I will leave you with an Amy Goldman anecdote of my own. I think it captures the essence of what makes The Melon unique. On my first visit to Amy's Rhinebeck, NY farm I drove past her vegetable garden and noticed a bunch of shiny things on the ground. A closer look showed that she had placed a bunch of maturing melons and squash, still on the vine, on bubble wrap squares. When I reached her home my first question to her was "Why the bubble wrap?" She matter-of-factly responded, "To prevent scarring and other blemishes…" Only someone motivated by love, respect and passion for her fruits could have possibly been motivated to invest this effort. The Melon is a true tribute to such extraordinary commitment.
Recommended Companion Plants