The Haws Heritage Indoor Watering Can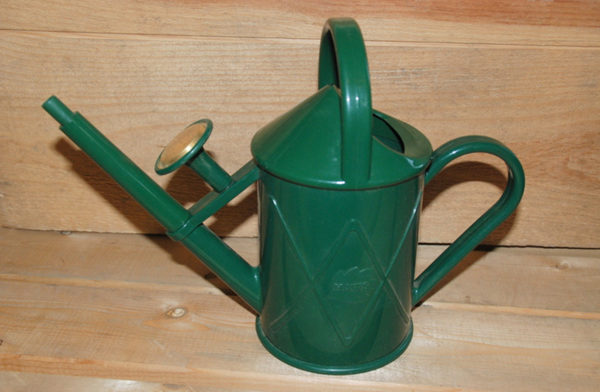 Quick Overview
The Heritage Indoor is the smallest can that Haws manufactures.
The design is from one of Haws earliest cans. The can is actually meant for adults, but has become very popular as a child's watering can.
It is nearly indestructible.
If you know a child whom you would like to introduce to gardening or an adult with a lot of indoor plants, the Haws Heritage would make an exceptional gift.
| | | | | | |
| --- | --- | --- | --- | --- | --- |
| Quantity | Length | Diameter | Height | Capacity | Colors |
| 1 Watering Can with Removable Plastic Rose | 11″ | 4″ | 8″ | 2 pints | Green, Pink |
The Haws Heritage Indoor Watering Can
While a civil servant in Mauritius, John Haws loved growing vanilla plants, but he was frustrated by the popular French-style watering cans because of their cumbersome handles. After his retirement, Haws returned to England resolved to design and build a better watering can.
The boom in horticulture and the development of large commercial greenhouse nurseries created a demand for watering pots, as they were then known, which could be maneuvered to water plants on high shelves and which were equipped with finely perforated roses for watering seedlings.
Haws applied for the first patent ever issued for a Watering Pot describing his invention in this way:
"this new invention forms a Watering Pot that is much easier to carry, and tip and at the same time being much cleaner, and more adapted for use than any other put before the public."
His watering pot revolutionized the shape of the canister, the position of the tipping handle and introduced the carrying handle. The Haws Watering Pot was the first to have two handles and a spout which emanated from the bottom of the canister. Shortly after receiving his patent, he founded The J. Haws Company in 1885.
For more than 125 years Haws has continued to manufacture, only the highest quality watering cans in the world.
Recommended Companion Plants