Zinnia, Purity White (California Giant)
43 in stock
Categories: Seeds, Flowers, Zinnias, Annual, North American Native, Pollinators.
Tags: annual, Flower, Heirloom, NON-GMO, Purity White, white, Zinnia.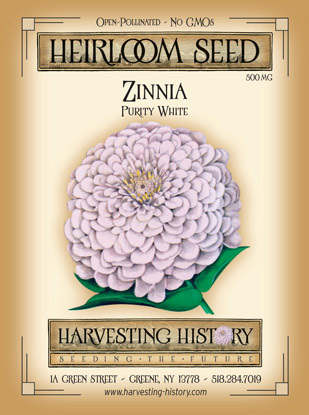 Quick Overview
ZINNIA, Purity White (California Giant)
Purity White, a California giant zinnia, produces a glistening white, fully double 3-5 in. diameter blossom. The plant stands 30-36 in. Plants grow easily from seed. Seed can be sown in the spring once the danger of frost has passed and the soil is warm.. When planting in spring, keep the soil slightly moist until germination which takes 7-10 days. When seedlings are 2 in. high, thin leaving 6 – 8 in. between plants.
| | | | | |
| --- | --- | --- | --- | --- |
| Type | Spacing | Planting Depth | Days to Germination | Blossoms |
| Annual | 6-8 in. | 1/2 in. | 7-10 | 30-45 |
Zinnia, Purity White (California Giant)
Zinnias are primarily native to Mexico but wild zinnias have been found as far north as Colorado and as far south as Guatemala. The Spanish explorers brought the first zinnias to Europe in the 1500s. The plant was Zinnia peruviana, a rangy, ugly, weedy thing with tiny, daisy-like flowers in orange, brown and yellow. By the 1600s, the plant was known throughout Europe, but little cultivated. Dr. Johann Gottfried Zinn of Gottingen University in Germany was the first to describe the plant botanically. In 1796, a zinnia believed to have come from Brazil was presented to Linnaeus – the legendary medical doctor and scientist. The plant, named Calthe de Bresil (the Brazilian Marigold), was Zinnia elegans. Its opulent blossom was the zinnia the world grew to love. Much of the early development with zinnias was done by the French who developed the first truly double zinnias in 1856. By 1864, double flowered zinnias in purple, orange, salmon and red had made their way back to North America. By 1876, the Philadelphia seedhouse, Henry A. Dreer, was offering dwarf zinnias. Persian Carpet, Zinnia haageana, is still available today. The most significant development for the zinnia came when John Bodger of Bodger Seeds Ltd. found a beautiful, natural mutation growing in a field of Mammoth zinnias. This zinnia had huge flowers with an incredible number of petals. The plants were robust and the variety appeared to be stable. For several years, Bodger worked on the variety which they named the 'California Giants' before introducing them in the 1920s. Gardeners in Europe, the US and Great Britain were ecstatic. The love affair had begun.
Recommended Companion Plants