Nicotiana (Fragrant Native Tobacco)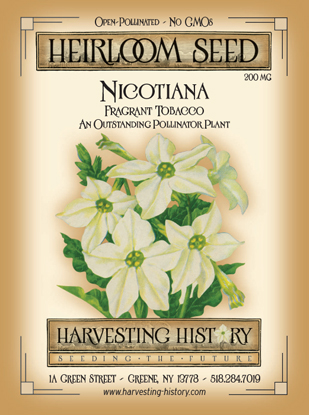 Quick Overview
Nicotiana (Fragrant Native Tobacco)
Nicotiana seed can be planted in late spring after the danger of frost has passed or in late fall. Broadcast the tiny seed in the area designated for this plant and cover with a dusting of soil. Moisten the soil and keep slightly moist until germination. The plants can reach a height of 6 feet, but 4-5 feet is the norm. The spread is approximately 2 feet. Nicotiana alata can be grown as an annual in Zones 1 to 12.
| | | | | |
| --- | --- | --- | --- | --- |
| Type | Spacing | Planting Depth | Days to Germination | Blossoms |
| Annual | 24 in. | 1/8 in. | 14-21 | 60-90 |
Nicotiana (Fragrant Native Tobacco)
Nicotiana is a group of heirloom plants, native to parts of North and South America. The plant that produces tobacco is Nicotiana tabacum. It is native to northeast Argentina and Bolivia and was the source of smoking tobacco grown by the Native Americans. The fragrant, ornamental nicotiana is Nicotiana alata. It is native to Southern Brazil and northeastern Argentina. The nicotianas are named after Jean Nicot, the consul from the King of France to Portugal who presented tobacco that he had obtained from a Belgian merchant in 1560 to the Court of Portugal. The ornamental nicotianas became a popular plant in American cottage gardens during the late 19th century when it began to be appreciated for its lovely fragrance and statuesque habit with abundant drooping trumpet-shaped blossoms. Victorian gardeners prized the plant for their "night-scented" gardens.
Recommended Companion Plants