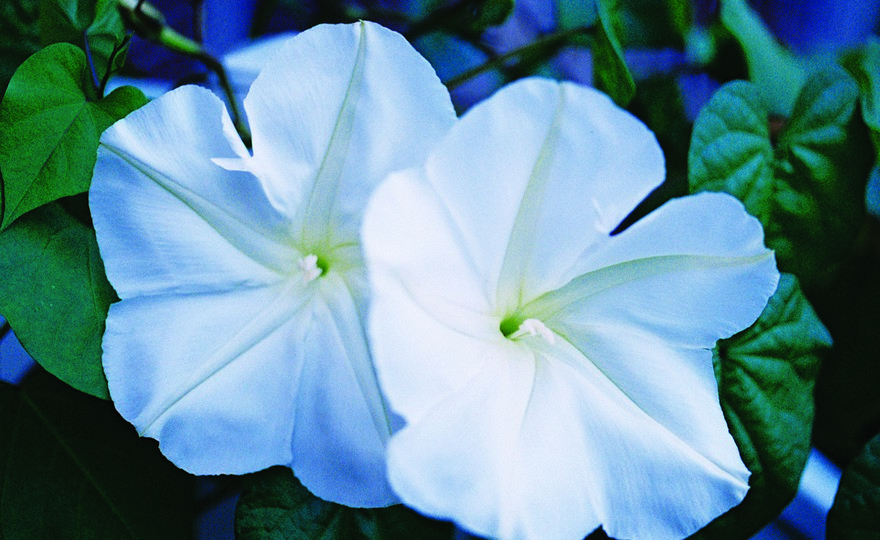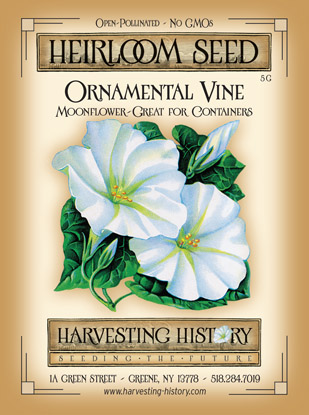 Quick Overview
Moonflower
Moonflowers should be planted in the late spring or early summer when the soil has become very warm. The seeds can be scored and soaked for 24 hours before planting to hasten germination. Moonflowers make great container plants. Three plants to a 10 inch pot is optimum.
| | | | | |
| --- | --- | --- | --- | --- |
| Type | Spacing | Planting Depth | Days to Germination | Maturity |
| Annaul | 6 in. | 1/2 in. | 10-14 | 30-45 |
Moonflower
Moonflower is an annual flowering vine, a member of the Morning Glory family, which produces during the evening hours huge, 6-8 inch diameter, snow white blossoms with heavy fragrance. The vines grow 15-20 feet in a season and can tolerate full sun or partial shade. The plant is native to Central America where it is often found climbing the trunks of the Panama Rubber Tree. The sap of the Moonflower is used in the vulcanization of the latex of the Panama Rubber Tree to produce rubber. As early as 1600 BC, the Olmecs, a Native Central American culture produced rubber balls for their Mesoamerican ballgames using this vulcanization process. The Moonflower was introduced into American gardens during the 1700s.
Recommended Companion Plants