There are no upcoming events at this time.

There are no upcoming events at this time.

There are no upcoming events at this time.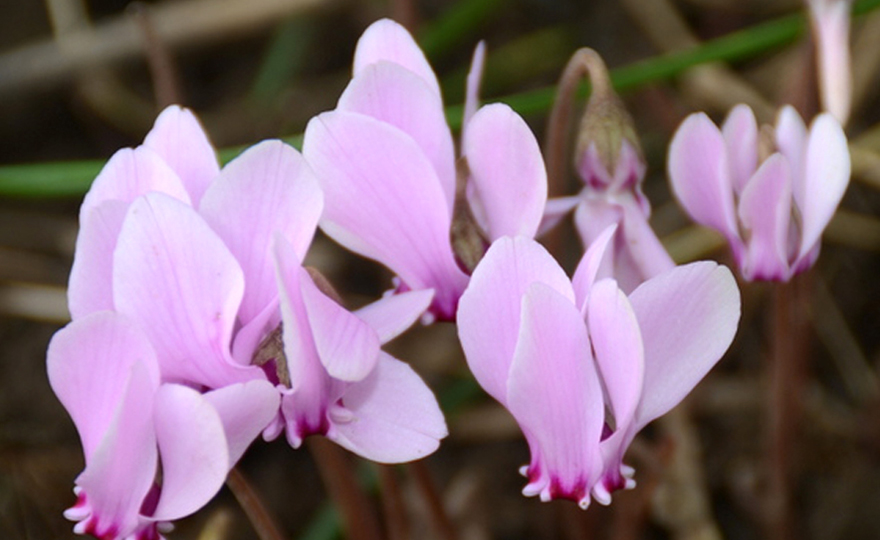 Quick Overview
Hardy Cyclamens
Unlike their very popular, spring blooming, hothouse cousins, these cyclamen produce interesting, mottled, low-growingleaves throughout the summer and then in the fall burst into bloom with dainty, pink, white, magenta or lavender recurved blossoms. They are a real treat in the late summer to autumn garden. HZ: 4-10 3" – 4"
Hardy Cyclamens
Fall Blooming Bulbs are a rare garden treat. Most emerge in the spring with no blossoms but some foliage which then dies back by early summer. In late summer or early fall the opulent blossoms emerge on single or multiple stems and blanket the weary fall garden with dazzling colors of rose pink, sunshine yellow, deepest purple, lavender and white.
Cyclamen are native to the lands bordering the Adriatic and the Eastern Mediterranean. In some of these areas they are more prolific than the dandelions of North America. They are rarely grown in gardens of the region because they are so plentiful on the roadsides.
Cyclamen coum is the hardiest of the hardy cyclamen producing blossoms in early to late winter. It can be grown from Hardiness Zone 3 to Hardiness Zone 9. This cyclamen can thrive in partial shade and can withstand very dry conditions as long as it is not in direct, hot sunlight, but it can also tolerate damp soil conditions. It is native to Bulgaria, the Crimea, Caucasus, Turkey, northwest Syria, and Lebanon. The tiny, 3 in. plants produce blooms in shades of pink, purple, magenta and white. The beautiful foliage is shiny with deep, glossy green or marbled, round leaves. The foliage lasts a long time. Plant the corms 1 in. deep and no more than 4 in. apart.
Recommended Companion Plants