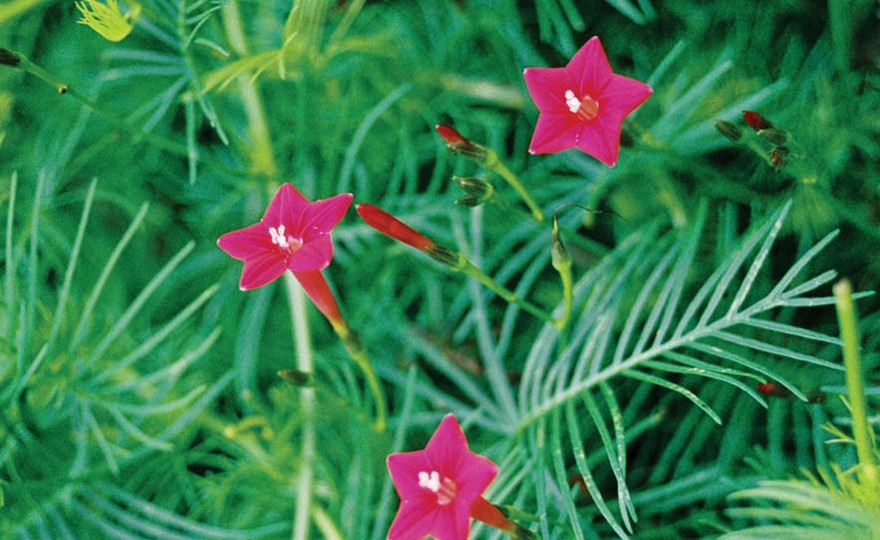 Quick Overview
Cypress Vine
seeds should be sown in late spring or early summer when the ground is very warm. They can be soaked for 12-24 hours before planting. Moisten the soil and keep slightly moist until germination. Always plant in full sun.
| | | | | |
| --- | --- | --- | --- | --- |
| Type | Spacing | Planting Depth | Days to Germination | Maturity |
| Annual | 6 in. | 1/2 in. | 10-14 | 30-45 |
Cypress Vine
Cypress Vine is an annual native to the tropical regions of North and South America and the Indian subcontinent. The plant was introduced into Europe during the 16th century and was known in Britain by the early 17th century. It never gained popularity in England because the cool British summers stymied its growth. Thomas Jefferson was the first to note its introduction to the US when he sent seed from Philadelphia to his daughters at Monticello in 1791. Joseph Breck in his 1851 book on American gardening, Breck's Book of Flowers, describes the plant in loving terms stating, "There is no annual climbing plant that exceeds the Cypress Vine, in elegance of foliage, gracefulness of habit, or loveliness of flowers." A single vine may grow 8-10 feet in a season and produces in abundance tiny, trumpet-shaped , intensely red flowers. The leaves are feathery, delicate and deeply green.
Recommended Companion Plants