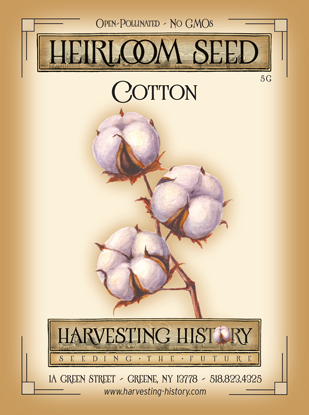 Quick Overview
COTTON
FULL SUN Native to the American Southeast, cotton has never been grown as an ornamental except for educational purposes, but its 4-8 ft. statuesque habit, striking, hibiscus-like lemon yellow flowers and fascinating seed pods should make it a welcome ornamental in the cottage or informal garden.
Sow seed in late spring after all danger of frost has passed and the soil is warm. Keep soil moist until germination.
When seedlings are 2 in. high, thin leaving 12-18 in. between plants.
| | | | | |
| --- | --- | --- | --- | --- |
| Type | Spacing | Planting Depth | Days to Germination | Blossoms |
| Annual | 12-18 in. | 1/2 in. | 14-21 | 45-60 |
Cotton
Cotton is ubiquitous. Varieties of cotton are indigenous to North, South and Central America, Asia, Australia and Africa. The greatest diversity of wild cotton can be found in Mexico followed closely by Australia.
Development of cotton as a woven cloth occurred independently in both the New and Old Worlds. Cotton fabric that is more than 7000 years old has been found in burial caves in Mexico and fabric that is more than 5000 years old has been found in the Indus River Valley in Pakistan. The Arabs brought cotton to Europe in 800 AD and cotton seed was planted in Florida in 1556 and at Jamestown, VA in 1607.
Cotton belongs to the Malvaceae family, a large plant group that includes okra, hibiscus and the Marsh Mallow from which marshmallow is made. The plant produces beautiful, lemon yellow, hibiscus-like blossoms and can be grown as an ornamental. Cotton can be grown in containers (3 plants per 18 in. diameter container if carefully fertilized and watered.
Growing cotton as a curiosity with children is a great children's gardening project. When undertaking such a project it is best to grow the cotton in containers, because cotton requires a long growing season and containers may need to be brought inside before the cotton bolls mature.
Recommended Companion Plants